Baseball Stadiums Are Wooing Fans With Absurd Calorie-Laden Food
Baseball stadiums are wooing fans with absurd, calorie-laden concession fare
By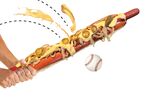 When the Texas Rangers play their home opener on April 10, it won't be a new pitcher that gets people cheering in the stands. Instead, the Rangers' ballpark is advertising a different kind of MVP. It's called the S'mOreo—or was, until Nabisco asked the team not to invoke the Oreo name—and consists of a graham-cracker-crusted marshmallow squished between two cream-filled cookies. It's deep-fried in sweet batter, then served six to an order for $8.
"Our patrons have become more food-savvy," says Casey Rapp, operations manager at concessions company Delaware North, which supplies the Rangers' food. The as yet un-renamed fried s'more is sold at a new State Fare stand, which also serves deep-fried Twinkies, funnel-cake french fries, and other Frankenfoods typical of the Texas State Fair. Nearby, a booth called Just Bacon offers items wrapped in, topped with, or drizzled over pork fat.
It's not just a Texas thing. The Arizona Diamondbacks recently brought out the Churro Dog, a churro wrapped in a doughnut and topped with frozen yogurt and caramel sauce. The Cincinnati Reds have a deep-fried hot dog topped with salami; the Milwaukee Brewers, a pulled-pork-and-mashed-potato parfait. The Minnesota Twins announced a bloody mary topped with a slice of pepperoni pizza. All look as if they belong on a Guy Fieri TV special, which is the point. "Thanks to the 24-hour cooking channels, food has become a significant way people enjoy life," says Carl Mittleman, sports and entertainment president of food service company Aramark, which makes food for 28 U.S. sports arenas.
Baseball, with its outdoor stadiums, long daytime games, and abundance of beer, is a good match for this kind of gluttony. Aramark says fans spend about 25 percent more on food and beverages than they did five years ago. Even as attendance at games has decreased since the recession—about 73.7 million seats were sold last year, according to statistics site Baseball-Reference.com, down 7 percent from 2007—the snacks have become a draw on their own.
The Rangers learned this in 2012 when the stadium introduced the Boomstick, a 24-inch hot dog smothered in chili and nacho cheese that costs $26. Within a year they'd expanded to 24-inch quesadillas, kabobs, and something called the Tanaco, a taco in a 2-foot tortilla. "The first thing people do when they see a Tanaco is whip out their cell phone and take pictures," says Shawn Mattox, general manager for Delaware North. Obviously, those images get eaten up by social media, much in the way that IHOP's cheesecake waffles or Olive Garden's never-ending pasta bowl went viral last year.
Before this, many teams were going in an opposite, fancy direction. In 2009 the New York Mets' Citi Field, also operated by Aramark, opened booths run by Shake Shack's Danny Meyer and a 350-seat restaurant by Drew Nieporent of the sushi chain Nobu. Upscale foods allowed vendors to raise prices—Citi Field's Catch of the Day stand has $17 lobster rolls—and the trend spread nationwide to Minneapolis's Target Field (with a lamb-and-goat burger) and Atlanta's Turner Field (with two outposts of the gastropub Holeman & Finch). The West Michigan Whitecaps, a minor league team associated with the Detroit Tigers, began offering more expensive, healthy options such as gourmet salads and hummus plates.
But too few people bought the high-end meals. "We had to sell ice cream at the stand just to make money," says Mickey Graham, the Whitecaps' director for marketing. So the team switched to chocolate-and-bacon tacos and a 5-pound, 4,800-calorie burger that was featured on the Travel Channel's Man v. Food. "A year from now people might not remember the score," Graham says. "But they will remember a 5-pound burger." This year it will sell alongside Nutella poppers, chorizo oysters, and beer-amisu—tiramisu with craft beer poured on top.
If there's good news, it's that none of these sell as well as an old-fashioned hot dog. Even as the Rangers trot out more creations, Mattox concedes that items such as the Boomstick and Tanaco make up only 20 percent of the Rangers' food profit. "We'll always sell more of the regular stuff," he says. "But this is an experience."
Before it's here, it's on the Bloomberg Terminal.
LEARN MORE