Why the Cable Companies You Hate May Be Forced to Compete Online
Alex Sherman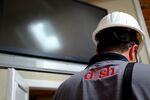 The largest U.S. cable companies may be approaching a cliff they've long tried to avoid -- competition with each other.
As a slew of companies, from Dish Network Corp.'s Sling TV to Sony Corp., begin to offer online television viewing, cable providers may be forced to respond with their own nationwide live streaming packages, or lose even more subscribers, said Rich Greenfield, an analyst at BTIG LLC in New York.
The result will be "nationwide war" as cable companies battle each other and the newcomers for online subscribers, said Greenfield. Regardless of where they live, customers could choose from among such providers as Comcast Corp., Charter Communications Inc. and Cox Communications Inc. The fight could endanger cable industry profits as consumers switch to cheaper online offerings. That prospect is already helping drive consolidation, such as this week's $10.4 billion merger agreement between Charter and Bright House Networks.
"Sling launched, and as soon as others follow, Comcast will have no choice but to launch, with Charter and other cable companies following," Greenfield said.
Head-to-head competition in the cable industry has long been anathema. It wasn't sensible to spend billions of dollars building cable lines in overlapping territories only to split business and compete on price. So consumers have been left to pick a TV service from their local cable company, like Comcast, satellite providers Dish and DirecTV, or maybe a phone carrier like Verizon Communications Inc. But they've almost never had the option to choose between two cable companies.
'Not Realistic'
In an era of Internet television, consumers don't need a set-top, satellite dish or a cable to view many of their favorite networks.
Philadelphia-based Comcast has said it has no plans for a national online video product, writing in a March 9 filing to the Federal Communications Commission that such an offering "would not be realistic or profitable." The California Office of Ratepayer Advocates, an independent consumer-advocacy office, and Dish both disagree, citing documents filed by Comcast to U.S. regulators. Comcast responded that executives considered and rejected the idea.
The pressure for cable companies to offer a lower-cost alternative that can compete with mobile streaming is growing. The number of U.S. subscribers to cable, satellite or fiber services fell for a second straight year in 2014, by about 176,000, according to research firm SNL Kagan. One reason is poor customer relations. Internet providers and pay-TV services were ranked last among 43 industries for consumer happiness in the 2014 American Customer Satisfaction Index.
Sling Package
In February, Dish, based in Englewood, Colorado, rolled out its Sling TV service, offering a package of cable networks, including Walt Disney Co.'s ESPN, streaming over the Internet for $20 a month. A typical monthly TV bill is $87.
Sony began selling PlayStation Vue in New York, Chicago and Philadelphia in March, a $50-a-month service that includes programming from more than 85 channels. Apple is planning a streaming service later this year, the Wall Street Journal reported recently, as is Verizon, Chief Executive Officer Lowell McAdam has said.
Meanwhile, programmers such as CBS Corp., Time Warner Inc.'s HBO and even Comcast Corp.'s NBC are offering slimmer packages of video directly to consumers, outside of a cable subscription.
Cable companies could respond by offering a live streaming product to their regional subscribers first before they debut a nationwide service, said Paul Sweeney, an analyst at Bloomberg Intelligence.
'Nuclear War'
But cable companies have to worry about hurting profits if they compete on online packages, according to Rocco Commisso, chief executive officer and founder of Mediacom, the nation's eighth largest cable provider. That's why he said he doesn't expect such moves -- what he calls "nuclear war" -- anytime soon. Nationwide competition would make more sense if there were far fewer cable companies -- which could happen with increased consolidation, he said.
Dish founder Charlie Ergen acknowledged that Sling TV will cannibalize his core satellite-TV business in a March 25 interview with CNBC.
Comcast Chip
Still, Comcast holds a chip that other cable companies don't have -- ownership of NBC Universal. Comcast must offer NBC and NBC Universal's cable channels, which include Bravo, CNBC and USA, to rival service providers until 2018, a condition the FCC and the Justice Department placed on its 2011 acquisition. After that, unless the rules change, Comcast could offer NBC and its cable networks exclusively or semi-exclusively -- a significant differentiator in a nationwide online offering.
The potential of online cable competition is already an issue for regulators who are weighing Comcast's $45.2 billion acquisition of Time Warner Cable Inc. The deal would remove one competitor if Internet video becomes a standard delivery mechanism, Ergen has argued.
Comcast's insistence that any online video streaming it plans would be for regional customers only "is not accurate," Ergen said. The two companies "would be natural competitors. That goes away in a merger."
Before it's here, it's on the Bloomberg Terminal.
LEARN MORE