To Get to 500 Wins, Andy Murray Used 12.5 Miles of Racket String
Danielle Rossingh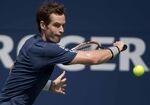 Andy Murray yesterday became the first British man to reach 500 victories on the men's tennis tour with a 6-4, 3-6, 6-3 win against South Africa's Kevin Anderson in the fourth round of the Miami Open.
"I hope it's not the last match I win," Murray told Sky Sports after the match. "There's a certain number I'd like to get to before I finish playing. Hopefully my body will hold up and give me the opportunity to get there." He plays Austrian Dominic Thiem in the quarterfinals today.
Murray, 27, is the ninth active player to reach the milestone and the 46th man to do so since tennis turned professional in 1968. His 2013 Wimbledon singles title ended Britain's 77 year wait for a men's champion. He also won the 2012 U.S. Open title and the London 2012 gold medal.
Here's a breakdown of how he got to 500:
-- 70.8 percent of wins on hard court, 14.6 percent on grass,
12.6 percent on clay and 2 percent on carpet -- Murray used 12.5 miles of racket string and ran 1,242 miles -- The player he's faced the most is Novak Djokovic (25 times), followed by Roger Federer (23 times) and Rafael Nadal (20 times) -- Murray has beaten six players at least 10 times: Federer, Gilles Simon, Jo-Wilfried Tsonga, Marin Cilic, Feliciano Lopez and Fernando Verdasco -- Fastest serve: 145 miles-per-hour -- In 10 years on the men's tour, Murray has lost 155 matches -- Total prize money: $35,786,853 -- Highest ranking: No. 2 (in 2013). Current ranking: No. 4
Source: ATP World Tour, Andy Murray's website
Before it's here, it's on the Bloomberg Terminal.
LEARN MORE