This Political Science Theory Explains Why Indiana's Religious Freedom Law Exploded in Mike Pence's Face
The meteorology of a modern media storm.
By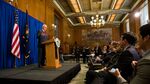 On Monday night, the front page of the next day's Indianapolis Star began rocketing across Twitter: it bore a blaring, all-caps headline demanding that Indiana Governor Mike Pence "FIX THIS NOW," meaning the state's new "religious freedom" law that had touched off a national furor by allowing businesses to discriminate against gays and lesbians. The Star's extraordinary front page was the culmination of a wave of media attention that built with astonishing speed and force. Understandably, many people wondered why, since, as Pence strained to point out during his bludgeoning by George Stephanopoulos on Sunday, other states have similar laws.