The Other Problem With Bringing Bill Clinton Into the RFRA Debate
Since Clinton signed the federal Religious Freedom Restoration Act into law in 1993, American attitudes on gay marriage have undergone a transformation.
By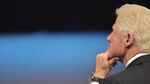 To put it mildly, when it comes to American acceptance of gay marriage, times have changed.
Yet a frequent refrain over the past several days in the debate over Indiana's newly minted Religious Freedom Restoration Act is that the law is essentially similar to the federal version signed in 1993 by then-President Bill Clinton. Governor Mike Pence has repeatedly invoked that defense when attempting to justify his own signature on a debatably similar version of a law that raised few eyebrows 22 years ago.
"It simply mirrors federal law that President Bill Clinton signed in 1993," Pence wrote in an op-ed in the Wall Street Journal. 
"The Religious Freedom Restoration Act was signed into federal law by President Bill Clinton more than 20 years ago," the governor told ABC News' George Stephanopoulos days earlier. 
While numerous media outlets and fact-checking organizations have detailed the way in which the Clinton-era federal RFRA legislation differs from the Indiana law, as well as the bill passed in the Arkansas legislature, another obvious point of departure is the country's rapidly evolving views on gay marriage.
In 1996, the first year polling information was gathered on the subject, Gallup found that more than two-thirds (68 percent) of Americans surveyed believed that same-sex marriage "should not be valid." Over the next two decades, that number eroded, until, in 2011, it hit a tipping point. For the first time in history, a majority of Americans said that gay marriages should be recognized. By May of 2014, 55 percent of those surveyed said gay marriage should be recognized, with just 42 percent saying it should not. 

Like President Obama himself, a large portion of America has been "evolving" when it comes to the question of same-sex unions—to the point where comparing today's legislation with that passed 22 years ago seems, well, a bit of a stretch.