Thailand's Junta Replaces Martial Law With Absolute Power
Chris Blake and Suttinee Yuvejwattana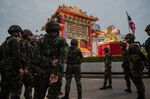 Thailand's military government lifted martial law imposed two days before the army seized power in a coup 10 months ago, though the junta will maintain the absolute authority it gave itself under the interim constitution.
The move by junta leader Prayuth Chan-Ocha, which was approved Wednesday by King Bhumibol Adulyadej, may boost tourism by giving visitors easier access to insurance. Still, it's unlikely to appease critics at home and abroad who say the junta is using its powers to stifle opposition to its rule.
"After lifting martial law, it is necessary to have measures in place to cope with any acts that threaten peace and order," the junta said in a statement in the Royal Gazette.
Since seizing power last May, the junta has used martial law to ban protests and political organizing, search homes without warrants and to detain hundreds of people for as long as seven days without charge. Prayuth will have all of the same powers under Article 44 of the interim charter, which says any action or order the junta takes is "lawful, constitutional and final."
"The government is clearly aware that its continued use of martial law is harming the country," the Bangkok Post newspaper wrote in an editorial March 30. "However, it appears that invoking this draconian article is almost the only action that could be worse."
Absolute Power
Prayuth had long said martial law was needed to keep order, saying there were "undercurrents" seeking to challenge his rule and destabilize the country through a return to the sometimes deadly political unrest seen in the months before the coup. While he has said he would use Article 44 in a "creative way, not to create conflicts," Prayuth has been clear about the absolute power it gives him.
"Article 44 gives me power to do anything," he told reporters March 30. "I won't be guilty."
Martial law will remain in place, as it was before the coup, in Thailand's far southern provinces near the border with Malaysia. For the past decade, insurgents in the Muslim-majority area have staged regular bombings and shootings, resulting in thousands of deaths as they seek independence.
The junta, known as the National Council for Peace and Order, issued 14 new regulations under Article 44 of the interim constitution Wednesday. The orders replicate many martial law restrictions, including banning political gatherings of more than five people, allowing suspects to be detained and interrogated without cause and giving the military power to shut down media outlets.
Consolidating Power
Replacing martial law with even stricter measures will fail as a "public relations gesture," so it needs to be looked at instead as a consolidation of power, said Paul Chambers, editor of "Knights of the Realm: Thailand's Military and Police, Then and Now."
While martial law formally gives power to the army chief, Article 44 hands total authority to Prayuth as junta leader, said Chambers, director of research at the Institute of Southeast Asian Affairs in Chiang Mai. Prayuth retired from the military in October, giving power to new army chief Udomdej Sitabutr, a fellow member of the Eastern Tigers military bloc that has come to dominate the army in recent years.
The change comes as the military's mid-year reshuffle is underway, when observers look to see which personnel connected to various factions rise and fall. Chambers said he reads the shift as a sign that "there are currently growing fissures within the ruling Eastern Tigers faction."
Before it's here, it's on the Bloomberg Terminal.
LEARN MORE