Takeover Boom Seen Fueled by Strong Dollar, Hunt for Growth
Ed Hammond, Manuel Baigorri and Jonathan Browning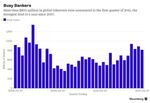 Global dealmaking is showing no sign of losing last year's momentum.
The total value of mergers and acquisitions rose to $815 billion in the first three months of the year, about 18 percent higher than the start of 2014, data compiled by Bloomberg show. It was the best start to a year since 2007, though still below the nearly $1 trillion in purchases struck early in that year.
Below, investment bankers based in the U.S., Europe and Asia share their perspectives on what is driving dealmaking: a strong dollar, the need to use acquisitions for growth, and Europe's rising appeal to foreign buyers.
Paul Stefanick, Head of Investment Banking at Deutsche Bank AG:
For corporates, the fundamental concept of achieving growth in a low growth environment remains a priority. We will see this play out in highly synergistic transactions that benefit from a low funding environment, strong investor support, and the US dollar's moves relative to the euro.
Thematically, FX is becoming much more important and will serve as a catalyst for US buyers looking at cross-border deals.
While the healthcare and technology sectors will remain active, the energy sector is one to watch for as the stabilization of oil prices between $40 to $60 a barrel could prompt seller capitulation.
Hernan Cristerna, Co-Head of Global M&A at JPMorgan Chase & Co.:
On the one hand we expect a continuation of European corporates pursuing external growth opportunities in higher growth regions where there is greater visibility on the shape of economic recovery, in particular North America.
At the same time we are increasingly alert to the flow in the opposite direction, where as confidence in the European recovery rises, coupled with the Euro weakness, it is providing attractive value opportunities for US and Asian buyers. We expect to see a convergence of these two opposite forces over the next 12 months with rising European inbound activity.
Adam Taetle, co-head of Consumer Retail Banking at Barclays Plc:
We expect the consumer M&A market to remain fairly robust as companies continue to face a variety of top line growth headwinds: anemic consumer spending, changing consumer tastes toward health, wellness and natural products, and dramatic FX pressures.
Companies are looking for M&A to boost growth by filling in product/geographic gaps or synergy plays - all being fueled by extremely constructive capital markets in terms of both financing and investor reaction to transactions.
While we expect all consumer sectors to continue to see consolidation, Food is likely to remain the most active as the top line pressures are most acute and the market is least consolidated.
Hajime Higuchi, Head of Asia ex-Japan M&A at Nomura Holdings Inc.:
The Asia ex-Japan M&A market will continue to be strong this year. In deal value it will be the same or slightly more than 2014 and I think we'll see around $800 billion of deals this year. We're getting closer to a $1 trillion market.
China is about half of that. For Chinese acquirers, they have the money and they have the aspiration. China has been growing so much and that is driving the market growth. They want to strengthen their market position and become more global.
This is part of a renewed government initiative. On top of that, Chinese acquirers are more familiar with M&A than before and at home they're trying to differentiate themselves from other domestic competitors through acquisitions.
Peter Tague, co-head of global M&A at Citigroup Inc.:
The market has high expectations for growth, and it is unlikely that cost cutting and organic investment alone will meet that demand. Certain sectors - such as technology, healthcare, financial institutions and industrials - face acute growth challenges, and as a result we expect accelerating consolidation.
Additionally, stress in the energy sector caused by sharply declining commodity prices creates significant opportunities for better capitalized participants, though it may take until later this year for sellers' expectations to adjust.
Gilberto Pozzi, Co-Head of Global M&A at Goldman Sachs Group Inc.:
The pickup in M&A activity in 2014 was driven by cheap financing, supportive equity markets, improved CEO confidence and an increased focus on M&A as a way to drive earnings growth through cost rationalization. We expect these trends to continue in 2015 with large scale mergers or large strategic acquisitions on the agenda.
We also expect cross-regional flows to continue to expand with significant interest from Asian and North American buyers for European assets in the industrials or infrastructure sectors, for example.
The recent decline in commodity prices has resulted in a slow-down in activity in oil and gas, but as prices stabilize, we expect activity to pick-up.
Before it's here, it's on the Bloomberg Terminal.
LEARN MORE