Rousseff Rules Out Currency Intervention After Real's Tumble
Adriana Arai, Raymond Colitt and Filipe Pacheco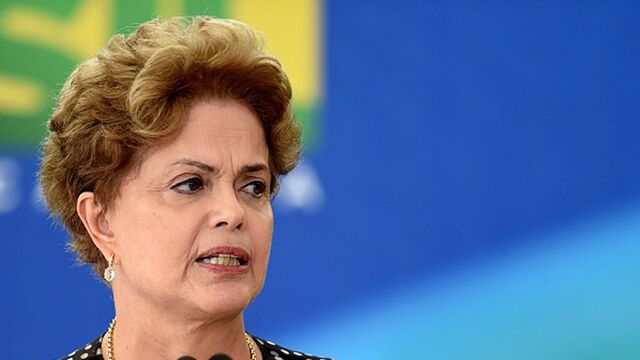 Brazil will let the real fluctuate freely and doesn't intend to intervene in the market to defend the currency, President Dilma Rousseff said.
"What we are doing is a policy of floating currency, and we'll continue to do that," she said in an interview at the presidential palace in Brasilia on Tuesday.
Rousseff's comments show a commitment to the type of economic orthodoxy championed by Finance Minister Joaquim Levy as key for the country to retain its investment-grade credit rating. Even as the real posts the biggest decline among major currencies this year, the central bank scaled back support by ending sales of foreign-exchange swaps last month.
The president said her government will do whatever it takes to meet fiscal targets this year. Her comments came hours after Brazil reported a February budget deficit that was twice as wide as forecast.
'Huge Cut'
"We will carry out a huge cut" to spending, Rousseff said.
The real rose 1.6 percent to 3.1479 per dollar at 12:13 p.m. in Sao Paulo, the best performance among 31 major currencies tracked by Bloomberg.
The currency lost 17 percent in the first three months of this year, its biggest quarterly decline since 2008, on speculation Rousseff's economic team won't be able to push through fiscal measures needed to preserve the country's investment grade amid sluggish economic growth and the fastest inflation in a decade.
Credit Suisse Group AG, Citigroup Inc. and Barclays Plc are among banks predicting the currency will weaken at least 6 percent more by the end of the year. One-month implied volatility on options for the real, reflecting projected shifts in the exchange rate, is the highest among 16 major currencies tracked by Bloomberg.
Export Outlook
The decline in Brazil's currency is a boon for companies that get most of their revenue from abroad. Levy said at a Senate hearing in Brasilia on Tuesday that the depreciation will bolster exports from Latin America's biggest economy.
Brazil started a policy of intervening to strengthen the real only because of the U.S. Federal Reserve's exit from quantitative easing, Rousseff said. The dollar is gaining against most currencies globally on speculation the Fed will start raising interest rates later this year. The Bloomberg Dollar Spot Index, which tracks the greenback against 10 major counterparts, advanced 6.2 percent in the first quarter.
Asked if she was happy with the current level of the real, Rousseff replied, "In economics, a president can't be happy or unhappy."
Before it's here, it's on the Bloomberg Terminal.
LEARN MORE