Miliband Win Offers No Guarantee U.K. Will Avoid EU Exit Vote
Robert Hutton and Svenja O'Donnell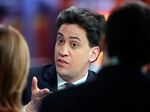 Ed Miliband has based his Labour Party's pitch for British business votes on one premise: he won't hold a referendum on leaving the European Union. But it's a promise he may struggle to keep.
Miliband acknowledged on Monday it isn't a cast-iron guarantee and he would hold an in-out vote if he failed to block any EU treaty that transfers powers from London to Brussels.
He only needs to look as far as David Cameron to see that policy shifts can be forced on prime ministers: seven months before he promised an EU referendum, Cameron ruled one out as not "the right thing to do."
Donors, lawmakers and supporters of the Labour party have already voiced support for a referendum, as the anti-EU U.K. Independence Party steals votes from both Labour and the Conservatives. Those voices may tip the balance if Miliband finds himself leading an unstable minority government.
"People haven't really thought about the possibility of a referendum under Labour yet," said Stewart Robertson, an economist at Aviva Investors Ltd. in London. "It would be -- 'well at least we don't have the Tories with a referendum' and then, 'blimey we're going to have one anyway.' It's a scary prospect."
Referendum Group
Labour economy spokesman Ed Balls was among those calling for a referendum two years ago, telling the Yorkshire Post newspaper that it would be "stupid" to become the "anti-referendum" party. A YouGov Plc poll in September showed 45 percent of Labour supporters backed a vote, compared with 36 percent against, while the "Labour for a Referendum" group names at least 15 lawmakers among its supporters and claims more whom it doesn't identify.
"There is a grouping within Labour that think the party should offer a referendum on the EU, partly to offset support for UKIP, and partly because they think Labour should give people a chance to have a say," said Wyn Grant, professor of politics at Warwick University. "They may not be influential in the shadow cabinet at the moment, but should we get a minority Labour government, they could become more vocal."
Renegotiation Pledge
If the Conservatives win the May 7 election, Cameron has said he would work to renegotiate Britain's relationship with the EU before holding a referendum by the end of 2017 in which he would campaign for Britain to stay. If Labour wins, the likelihood is the Tories would adopt a much more hostile position to Europe as they seek a new party leader, meaning a referendum under Miliband could see the main opposition party pushing at the exit door.
"Miliband could find himself in his mid-term facing a Conservative Party that's moved definitively to an 'Out' position, with a new leader, and which is much more popular than his own minority government," said Tim Bale, author of "Five Year Mission -- The Labour Party Under Ed Miliband."
While Miliband has identified himself closely with the cause of EU membership and opposition to a referendum, some of his party's biggest financial backers have called for it to be put to a public vote.
John Mills, founder of JML Limited, has given more than 1 million pounds ($1.5 million) to the party, and is one of those arguing for a vote. "The country's very split on this -- a substantial proportion want to have a referendum," Mills said in an interview. "Sooner or later that decision is going to have to be taken by the British people."
One of the factors that pushed Cameron to change his position was the rise of UKIP, and its threat to take votes from his Conservative Party. That threat increasingly also applies to Labour. Last year Miliband's party came within 617 votes of losing a formerly safe Parliamentary seat of Heywood and Middleton in northwest England to UKIP.
Unite Warning
The Unite labor union, which gave 2.9 million pounds to the party in 2014, warned in July that Labour was "boxing itself in" by opposing a referendum.
"Without such a pledge our party will stand exposed, UKIP will be strengthened in some key constituencies, the Tories will hypocritically charge Labour with being anti-democratic," Unite's General Secretary Len McCluskey said. "In a tight election this can make the difference."
According to Steven Fielding, professor of politics at the University of Nottingham, such pressures could push Labour away from its pro-EU stance. "Historically, Labour has gone one way and the other," Fielding said. "This apparent consensus doesn't have to last."
Before it's here, it's on the Bloomberg Terminal.
LEARN MORE