McDonald's to Increase Hourly Wages, Offer Paid Vacation
Craig Giammona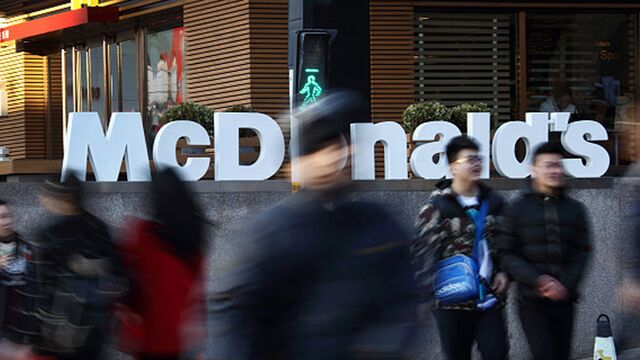 McDonald's Corp. will raise pay at company-owned locations to at least $1 more than the local minimum wage and begin offering vacation benefits, aiming to gain an edge on rivals in an increasingly competitive labor market.
The move, which takes effect on July 1, will apply to about 90,000 workers, the Oak Brook, Illinois-based company said Wednesday in a statement. It won't affect the 90-plus percent of restaurants that are run by franchisees. By the end of 2016, the fast-food chain expects workers at company-owned locations to earn more than $10 an hour on average.
In its pledge to improve pay and benefits, McDonald's is joining a growing roster of major U.S. employers. In recent months, Wal-Mart Stores Inc., Target Corp. and TJX Cos. have all vowed to boost pay to at least $9 an hour this year. McDonald's and other fast-food chains also have come under pressure from labor groups, which are demanding a $15-an-hour wage and the right to unionize.
"With the economy picking up, restaurants everywhere have had higher turnover," said John Gordon, founder of Pacific Management Consulting Group in San Diego. "They don't feel like they have to stay at the same place."
McDonald's also will let workers earn time off annually once they've worked a year at the company. An employee who works 20 hours a week, for example, could be eligible for about 20 hours of paid time off per year.
New CEO
Though the pay hike doesn't affect most McDonald's workers, it marks a dramatic early move for new Chief Executive Officer Steve Easterbrook. After his promotion to the top job last month, Easterbrook has been working to reignite growth at the fast-food chain. Other efforts include a test of all-day breakfast at San Diego restaurants and an touch-screen system that lets customers customize burgers and sandwiches.
McDonald's has been grappling with sluggish sales in its home market and a health scare in Asia, where a supplier was accused of repackaging old meat after it was past its expiration date. U.S. same-store sales fell 4 percent in February, a worse decline than analysts had predicted.
The pay raise is part of a push to transform McDonald's into a modern, progressive burger company, said Peter Saleh, an analyst at Telsey Advisory Group in New York. That means good food, updated restaurants and better service, he said.
"If you're going to underpay your people, I don't see how you can have great service," he said. "They had to do something."
Fight for $15
The "Fight for $15" movement, which has union backing, has staged protests against McDonald's and other fast-food chains since 2012. Earlier this week, the group said it was planning fast-food strikes and protests across the U.S. on April 15. That plan didn't change with McDonald's pay pledge on Wednesday. In fact, the groups said they will protest outside McDonald's locations on Thursday to criticize the company for not going far enough.
"It's clear the real reason McDonald's is doing this is because workers have been going on strike for over two years," Kendall Fells, the organizing director of Fight for $15, said on a conference call. "This isn't enough, and workers will keep striking until they get $15 and a union."
Kwanza Brooks, a McDonald's employee who makes $7.25 an hour at a company-owned store in Charlotte, North Carolina, dismissed the raises as public-relations gimmick.
'P.R. Stunt'
"It's a P.R. stunt and that P.R. stunt isn't going to pay my gas bill this month, or get my landlord off my back," Brooks, 38, said on the call.
In addition to raising wages, McDonald's will expand its Archways to Opportunities education program, which helps employees complete high school and pay for college tuition. The assistance will be offered to workers at both company-owned and independent restaurants. McDonald's has about 750,000 employees total in the U.S.
The wage hikes, meanwhile, will apply to workers all the way up to restaurant managers, based on their tenure and job performance.
"We've been working on a comprehensive benefits package for our employees," Easterbrook said in Wednesday's statement. "We've listened to our employees and learned that -- in addition to increased wages -- paid personal leave and financial assistance for completing their education would make a real difference in their careers and lives."