Holcim's Reitzle Backs Eurocement Board Seat, Lafont Role
Aaron Kirchfeld and Francois de Beaupuy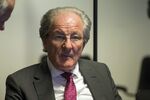 Holcim Ltd. Chairman Wolfgang Reitzle, trying to overcome lingering opposition to a mega-merger with Lafarge SA, backed a board seat for the second-biggest shareholder Eurocement Holding AG and vowed to work closely with future co-chairman Bruno Lafont.
Holcim and Lafarge last month agreed on new terms and management changes, including making Lafarge chief executive officer Lafont co-chairman, instead of CEO, to salvage the creation of the world's biggest cement company. Both executives now need to work together to prove to shareholders that the merger creates value, Reitzle said.
"We'll both have our hands full to ensure a successful merger and we'll share the work on a daily basis," Reitzle, 66, said in a telephone interview. "It's all about bringing together both companies and their troops and to create a harmonious, performance culture as quickly as possible. Without Bruno Lafont, that wouldn't be possible."
The initial merger terms and Lafont's position became a sticking point after Lafarge's results lagged its Swiss peer, highlighting the difficulties of creating a $48 billion company through a merger of equals. Even after agreeing to an exchange ratio more favorable for Holcim investors, Reitzle still faces opposition from some shareholders including Eurocement, the Russian cement maker controlled by billionaire Filaret Galchev, ahead of a vote in May needed to complete the deal.
Eurocement Talks
"You can assume that we are speaking with all shareholders and also with him," Reitzle said, referring to Galchev's Eurocement, which has a 10.8 percent stake in Holcim. When asked whether he'd consider giving him a seat on the board, he said: "It would be beneficial to have him in the board as he would bring in lots of expertise from the cement sector."
While Eurocement views the offer for a board seat as a positive step, it remains opposed to the merger because it's unsatisfied with the exchange ratio, according to a person familiar with the matter.
Eurocement plans to vote against the merger, a person familiar with the matter said last week. The company isn't satisfied with the revised terms, which would give 0.9 of one Holcim share for one share of Lafarge, instead of the original one-for-one ratio, said the person, asking not to be identified because the considerations are private.
Reitzle said no further change in the exchange ratio "is foreseeable" and he ruled out paying a special cash dividend now to placate investors.
Deal Logic
"Naturally, everyone could imagine better terms, but I believe these terms are fair for both sides," said the former CEO of Germany's Linde AG, the world's largest industrial gas supplier. "I think on the day of the vote, people will think long and hard and realize that the deal logic and potential to create value are the more convincing arguments."
Two thirds of Holcim's shareholders need to approve a capital increase that is necessary for the deal to go through at an investor meeting. Lafarge's annual general meeting is on May 7, one day before the Swiss company meets. Ethos foundation, which advises Swiss pension funds, said late last month that it still has doubts about the combination and large shareholder Harris Associates told newspaper Finanz und Wirtschaft that the new terms are "not perfect."
Other investors such as Thomas Schmidheiny, Holcim's largest shareholder and the billionaire co-architect of the merger, support the deal.
Schmidheiny Support
"As an investor with a long-term interest I'm positive about the future value of, and I therefore fully support, the Holcim and Lafarge merger," Schmidheiny said in a statement. "Once all matters regarding the share exchange ratio and the governance have been agreed on, I will expect from the management team to focus on and implement the integration forcefully."
Who will lead that team as CEO remains to be seen after Lafont was pushed out of that role.
Under last month's agreement, the French company will propose a new CEO for the combined entity, which will value Lafarge at 28.2 billion euros ($30.3 billion). Lafarge favors Chief Financial Officer Jean-Jacques Gauthier and Executive Vice-President Eric Olsen, people familiar with the matter said on March 23.
Reitzle declined to comment on any potential candidates, but said he's hopes a new CEO will be presented "in the next one or two weeks."
Until then, the German executive will keep arguing the merits of the deal, which is in "a spirit of merger of equals," and pushing the teams to realize the targeted 1.4 billion euros in savings. He didn't rule out share buybacks and special dividends once the synergies have been achieved.
"Our main goal is to complete the merger as quickly as possible and then work on realizing the synergies while simultaneously forging a single culture," Reitzle said. "We have large teams that haven't had vacation for a year, they worked over Christmas, day and night, to achieve this merger, while successfully managing daily operations."
Before it's here, it's on the Bloomberg Terminal.
LEARN MORE