Hillary Clinton on Campaign Plans: 'All in Good Time'
An event to promote early childhood education fuels more questions about when her expected campaign will launch.
By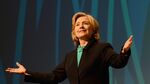 Hillary Clinton was in Brooklyn on Wednesday for one of her final public events before launching her likely presidential campaign, but she wouldn't bite when asked if her headquarters will be in the borough.
"All in good time, all in good time," the former secretary of state said in response to a reporter's shouted question at the event at a program promoting pre-K for children. "I was happy to be here at this exemplary center."
Clinton's campaign offices are expected to be in downtown Brooklyn, and many of the staffers joining her team are settling in the area. Wednesday's event was designed to show her support for Chirlane McCray, the wife of New York Mayor Bill de Blasio, and her efforts to encourage parents to talk to their children, an important part of early childhood development.
Clinton said she was issuing "a challenge that we have more centers like this one … and that we have more leaders" who boost universal pre-K and other programs to support children.
It was a preview of many of the small-group conversations she's likely to host once she enters the presidential race, this time leaning on an issue about which she's been passionate since the 1970s. 
She and McCray launched the city's Talk to Your Baby initiative and released the Clinton Foundation's Too Small to Fail Community Campaign Guide. 
McCray reached out to Clinton's team to arrange the event, which was announced on Tuesday. Clinton's appearances last week in Washington had been widely anticipated as her final public events before she kicks off her presidential campaign, likely in the next few weeks. 
Clinton has frequently praised de Blasio's push for universal pre-K in the city, most recently last Monday while discussing urban issues at the Center for American Progress. "I'm very much a supporter of what Mayor de Blasio did in New York, trying to create pre-K access for every young child in New York, regardless of who that child is and who its parents are," she said then.
Early childhood development is one of Clinton's longstanding policy interests, and she joined de Blasio and McCray at an early 2014 panel on expanding access to pre-K programs. 
Clinton and de Blasio have decades-old ties. He managed her 2000 Senate campaign, and both Hillary and former President Bill Clinton campaigned for him in the 2013 mayoral race. De Blasio could prove to be a key ally for Clinton in the 2016 presidential race, as she tries to build support among progressives.
While Clinton wouldn't discuss her plans, her appearance came as the New York Times reported a handful of new hires for her likely campaign from Ready for Hillary, the super-PAC that has boosted her for the past two years but plans to disband once she enters the presidential race. Clinton has hired Adam Parkhomenko, the group's executive director, as director of grassroots engagement, and also has also tapped staffers Neisha Blandin, Jessica Meija, Alex Smith, Hans Goff and Rachel Schneider.
Clinton ended with a compliment for McCray, who sang at a recent public event.
"I was quite envious of Chirlane the other day when she burst into song," she said. "You know, I love to sing, but nobody wants to hear me sing."