Growth-Stock Triumph Over Value in U.S. Fails to Impress Goldman
David Wilson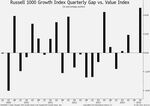 Growth stocks' biggest quarterly victory over value shares in the current bull market may turn out to be fleeting, according to David Kostin, Goldman Sachs Group Inc.'s chief U.S. equity strategist.
The attached chart compares the quarterly performance of the Russell 1000 Growth Index, whose companies have the biggest projected increases in earnings and sales, and the Russell 1000 Value Index, whose stocks trade at relatively low multiples of asset values.
For the first quarter, the growth index rose 3.5 percent and the value index fell 1.3 percent. The gap of 4.8 percentage points was the widest in favor of growth stocks since the first quarter of 2009, when the most recent bear market ended.
"Subdued U.S. economic growth has fueled growth-stock outperformance," Kostin wrote in a March 27 report. The New York-based strategist cited data on housing starts, durable-goods orders and manufacturing in the Philadelphia area as indications of the economy's weakness.
February starts tumbled 17 percent, more than any economist in a Bloomberg survey anticipated, and orders for items designed to last more than three years unexpectedly dropped 1.4 percent. In March, the Federal Reserve Bank of Philadelphia's index of business conditions slid for a fourth straight month.
Growth companies' leadership probably will fade as the economy begins to accelerate, Kostin wrote. He cited Goldman's forecast that gross domestic product will climb 3 percent this year, up from 2.4 percent last year.
Before it's here, it's on the Bloomberg Terminal.
LEARN MORE