China Appliance Maker Haier Spends $300 Million on Expansion
Bloomberg News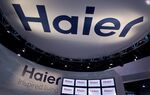 Haier Electronics Group Co. will more than double capital spending this year as the Chinese appliance maker seeks to develop more "smart home" products and capture a greater share of the country's e-commerce sales.
Haier Electronics will spend 2 billion yuan ($323 million) -- up from 834 million yuan last year -- to expand delivery capacity and turn rural stores into showrooms for third-party appliances and electronics, company executives told Bloomberg. A portion of the money would also go toward producing more Web-connected appliances users can control with their smartphones.
"Many of our stores are in the smallest cities in China," Haier Electronics Chairman Zhou Yun Jie said in an interview. "In the future, we hope to expand them to become service centers, and a place where rural residents can test and buy items beyond just Haier products."
Haier Electronics -- the Hong Kong-listed unit of China's largest major appliance maker, Haier Group -- is looking to expand its reach and product line as China's slowing economy and property downturn weigh on sales of washing machines and water heaters. The company is also facing competition from hi-tech domestic rivals such as Lenovo Group Ltd. and Xiaomi Corp., who are starting to roll out smart home devices tailored to the country's mobile users.
This year's spending plan will help Haier Electronics renovate stores in smaller cities to showcase products such as exercise equipment made by other companies, said Bo Zhan, the company's general manager for finance. The stores will keep no stock for those items and customers will be able to make online purchases for home delivery.
Alibaba Venture
Shares of Haier Electronics rose 3.9 percent to HK$21.55 in Hong Kong, the highest close since Nov. 28. They surged as much as 6 percent earlier today. Hong Kong's benchmark Hang Seng Index climbed 0.8 percent.
Outlets that have already made the switch saw same-store sales growth of about 7 percent, while others reported negative single-digit declines, HSBC Holdings Plc analysts led by Lina Yan wrote in note dated March 30.
Haier Electronics will also make acquisitions to expand its logistics reach, as the growth in e-commerce increases demand for deliveries, Zhan said. It's eyeing buyouts of smaller companies elsewhere in eastern China, with the deals not expected to exceed 100 million yuan.
The company expects to sign two deals in the near term and has three more in pipeline, Haier Electronics Deputy General Manager Simon Huang said.
The Qingdao-based company is looking to expand the logistics joint venture it set up last year with Alibaba Group Holding Ltd. The Chinese e-commerce giant completed the purchase of a 2 percent stake in Haier Electronics last March.
Smart Homes
The company posted a net income of 2.45 billion yuan last year, an increase of 20 percent from the previous year. Sales rose 7.8 percent to 67.1 billion yuan.
Zhou said he was confident the company would outperform the China's overall home appliance industry, which he forecast to grow by as much as 5 percent.
Haier Electronics will also use the capital spending to develop more Web-linked appliances and tap a market expected to grow to $7.1 trillion by 2020, according to International Data Corp. That's up from $1.9 trillion in 2013.
The company has already rolled out smart appliances such as heaters you can turn on with your mobile phone, and washing machines which adjust their cleaning functions according to clothing load.
"Smart appliances in China are like mobile phones -- their growth will be rapid," Zhou said. "Chinese consumers are fond of technology, especially among the young."
— With assistance by Liza Lin, and Moxy Ying
Before it's here, it's on the Bloomberg Terminal.
LEARN MORE