Charter Needs More Than Cable Mergers to Repel Online Threat
Gerry Smith and Scott Moritz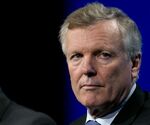 Charter Communications Inc. is already talking about more potential mergers after agreeing Tuesday to buy Bright House Networks for $10.4 billion. It will need more than acquisitions to deflect the growing online competition that threatens the traditional cable business.
The pay-TV model, challenged by subscription video services such as Netflix Inc., has a new foe: smaller, cheaper online bundles like Dish Network Corp.'s Sling TV, which offers about 20 channels for $20 a month. Online services may lure cable subscribers who want lower their bills and to pay only for the networks they want.
"The future of TV is going to be decided less by mergers between these players and more by evolution in the customer experience they provide," Jan Dawson, an analyst at Jackdaw Research, said, referring to cable companies.
Charter could pursue other deals, executives said Tuesday on a conference call. After the Bright House acquisition closes, Stamford, Connecticut-based Charter will still have the capacity to borrow as much as $6 billion, which it could use to fund more purchases, according to data compiled by Bloomberg Intelligence.
Getting bigger may not be the answer anymore in an industry that has shown signs of decline. The number of U.S. subscribers to cable, satellite or fiber services fell for a second straight year in 2014, by about 176,000, according to research firm SNL Kagan. A year earlier, the drop was 251,000. That's leaving phone and cable companies to focus on retaining video customers rather than chasing new ones.
New Technology
The industry is trying to keep customers in the fold with new technology that justifies their monthly cable-TV bill, which is about $87 on average, according to Bloomberg Intelligence. Comcast Corp., which is awaiting approval for its merger with Time Warner Cable, offers subscribers the X1 set-top box that gives them the ability to watch TV shows stored online and interact with social media. Charter plans to make a new video guide available to subscribers by the end of this year.
Mergers may give Charter and Comcast more leverage when negotiating contracts with TV networks, which could keep cable TV prices down for consumers.
Still, such deals may do little to hold onto customers who want to pay less for TV and have the power to pick and choose their own TV experience, Jackdaw's Dawson said.
"The mergers should help slow some of the rapid content cost increases these companies are suffering from and passing on to consumers," Dawson said. "But they won't fundamentally change the shape or nature of what consumers buy from them, and that's where things really need to change."
Customers seeking to opt for smaller bundles are about to get more choices. Starting at $50 a month, Sony Corp.'s PlayStation Vue -- available in New York, Philadelphia and Chicago -- offers on-demand and live programming from more than 85 channels.
Apple Inc. plans to debut a service this year with about 25 channels, according to people with knowledge of the matter. Verizon Communications Inc., the largest U.S. wireless carrier, also intends to enter the Web-based streaming market with a slimmed-down package.
Before it's here, it's on the Bloomberg Terminal.
LEARN MORE