Business Chiefs Endorse U.K. Conservatives in Open Letter
Emma Ross-Thomas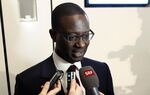 More than 100 business leaders signed an open letter backing the economic and tax policies of the U.K.'s Conservative-led government and said a change in direction would threaten jobs.
Lowering corporation tax has been "a key part of their economic plan" and has spurred growth in the U.K., executives including BP Plc Chief Executive Bob Dudley and Prudential Plc CEO Tidjane Thiam wrote in the letter to the Daily Telegraph.
"We believe a change in course will threaten jobs and deter investment," they said. "This would send a negative message about Britain and put the recovery at risk."
The opposition Labour Party, which polls show is neck and neck with the Conservatives ahead of the May 7 election, has seen its relationship with business deteriorate under the leadership of Ed Miliband. The party has focused its efforts to woo business on a pledge to avoid the referendum on European Union membership that Prime Minister David Cameron wants to hold by 2017, and which some investors say is a source of uncertainty facing the British economy.
Labour has pledged to increase corporation tax to 21 percent from 20 percent, reversing a reduction by the Conservative-led government that took effect Wednesday. Labour says there are no plans to raise it beyond 21 percent.
Labour business spokesman Chuka Umunna said in an emailed statement that no one should be surprised that business leaders want lower taxes. Under Labour, the U.K. would still have the lowest corporation tax rate amongst the Group of Seven countries, he said.
Those signing the letter included Peter Grauer, the chairman of Bloomberg LP, which is the parent company of Bloomberg News. Grauer is also a senior independent non-executive director of Glencore Plc.
Before it's here, it's on the Bloomberg Terminal.
LEARN MORE