politics
Arkansas Governor Won't Sign Religious-Freedom Bill Following Outcry
Lauren Etter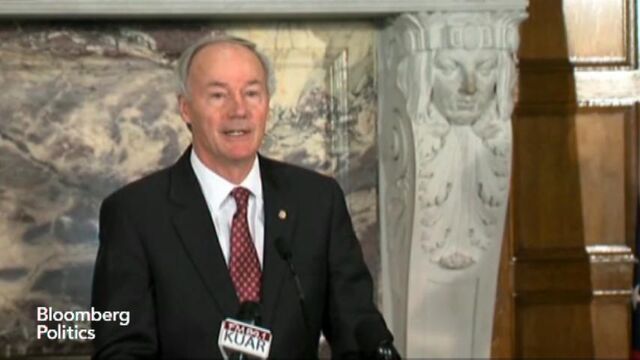 Arkansas Governor Asa Hutchinson said he won't sign a religious-freedom law that opponents said sanctions discrimination against gays and lesbians, following pressure from businesses that said it would harm the state's reputation.
Hutchinson, a Republican, said he is asking the legislature to revise the bill to make it similar to a federal law that's been on the books for more than two decades.
The veto comes a day after Indiana Governor Mike Pence sought to contain an outcry over a similar bill that's led to calls to boycott his state. Arkansas-based companies, including Wal-Mart Stores Inc., pressed Hutchinson to veto the legislation. Hutchinson had previously said he would sign such a measure.
"This is a bill that in ordinary times would not be controversial," he said during a press conference in Little Rock. "The issue has become divisive because our nation remains split."
The law, know as the Religious Freedom Restoration Act, bars state and local governments from infringing on citizens' religious beliefs without a compelling reason. Opponents say it would protect businesses that turn same-sex couples away on faith-based grounds.
Before it's here, it's on the Bloomberg Terminal.
LEARN MORE