politics
Trevor Noah, From Progressive Icon to Villain in 24 Hours
Why people turned on Trevor Noah so quickly.
By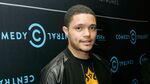 The media hot take, the quick response to unfamiliar news, generally ages like milk left out in the August sun. Sonia Saraiya's reaction to Trevor Noah, the new host of The Daily Show, has not even aged that well. A few hours after Comedy Central announced that the South African comic would replace Jon Stewart, Salon's TV critic predicted a surge of "right-wing rage" because "conservative critics have a practiced, doublespeaking method of piling on the heat on figures who stand out because of their race or gender or sexuality," and obviously their guns would turn on Noah.
"I hope we can prove to Noah that we deserve him," wrote Saraiya, "and that we'll stand for him, too, when it's necessary."
Not 24 hours later, Salon published a piece about how Noah's old tweets—not conservatives—might "kill The Daily Show." As Sonny Bunch helpfully recounts, the Internet discovered that Noah, who'd grown phenomenally popular in the rest of the Anglosphere, had a bit of a clunker problem. 
This has all led to some whipsawing in progressive media, from a Trevor Noah welcome wagon to a caravan of pitchfork-wielding villagers. On Monday, Vox's Max Fisher introduced Noah to readers with "seven of his funniest clips," and predicted that the host would make his show "a fresh and perhaps invaluable contribution to how we talk—and joke—about race and nationality." He proved it, with a dive into Noah's popular videos, pulling out solid routines about how bad Africans looked in famine relief ads and how mixed-race people get "upgraded to black" when they're famous.
Yet within a day, there was dissent within Vox; writer Kelsey McKinney was explaining why Noah might be unfit to lead TDS. "A Daily Show host should be held to a higher standard than other comedians," she wrote in regard to the tweets. "These jokes are offensive because they are reflections of cultures that are oppressive and privileged—and rather than being critical of those societal constructions, the jokes instead reinforce them."
In another era, like when Stewart took over TDS, a couple of clunkers about race and gender would have been just that—clunkers. The audience groans, the show moves on. But the show plays a larger role in progressive life and thought than anyone could have expected when Stewart took the job. Just a year ago, Stephen Colbert's show spent days fending off a charge of racism for a joke about Washington Redskins host Dan Snyder that imagined Colbert setting up his own offensively named pro-Asian foundation.
"The guises of 'satire,' 'irony,' and 'humor' are not shields of armor against criticism," wrote Suey Park, a Twitter critic who parlayed the success of a #CancelColbert hashtag into a guest column for Time magazine. "These white liberals are not mad that we pointed out racism, they are mad that they now have to consider the ways in which they may be racist."
Implicit in that analysis: The elevated status of The Colbert Report, and The Daily Show, meant that they needed to enrich their viewers as well as entertaining them. The phenomenal success of John Oliver's HBO spinoff of TDS, Last Week Tonight, has not entirely been about his humor. Oliver's monologues show up on progressive sites, on Monday mornings, as viral explainers for things that are Wrong With America. The brand of satire Stewart invented now plays for progressives the role that Fox News or talk radio plays for conservatives.
In his Vox analysis of why Noah would work, Fisher insisted that a South African comic with routines that challenged people's hidebound views of race was just what the show needed. It wasn't just a way for Comedy Central to avoid replacing Stewart with a carbon copy. "Americans love to hear themselves mocked by foreigners," wrote Fisher. "It's a low-stakes way of talking about American problems and weird habits, and there's also a real degree of narcissism to it: people just like hearing about themselves."
That was seemingly contradicted by the  belly-flop of Piers Morgan's CNN show, which turned the British host into an easy villain of gun rights groups. But CNN's ambitions and the inherited ambitions of Comedy Central are very different.
Before it's here, it's on the Bloomberg Terminal.
LEARN MORE