South Korean Inflation Eases to Slowest Pace in Almost 16 Years
Jiyeun Lee and Cynthia Kim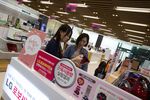 Inflation in South Korea eased to the slowest pace since July 1999, adding to concern that prices could fall amid fragile demand at home and cheaper oil from abroad.
Consumer prices rose 0.4 percent in March from a year earlier, Statistics Korea said in a statement on Wednesday, matching the forecast by economists in a Bloomberg survey. Core prices, which exclude oil and agricultural products, rose 2.1 percent.
Finance Minister Choi Kyung Hwan has said he's worried about the risk of deflation while Bank of Korea Governor Lee Ju Yeol has described concerns of falling prices as "excessive." That didn't stop the BOK last month joining more than two dozen other central banks in easing policy this year in the face of slowing inflation and growth.
"We're not in deflation, but we are at a stage where people should be worried about it," said Oh Suk Tae, a Seoul-based economist for SG Securities Co. "The central bank certainly should be concerned."
When the BOK lowered the benchmark interest rate to a record-low 1.75 percent on March 12, it noted that economic growth and inflation were likely to trail its forecasts.
The central bank will update its outlook at an April 9 policy meeting, having previously forecast 3.4 percent growth and 1.9 percent inflation for 2015.
Expectations among investors for inflation have been slowing. The 10-year break-even rate, which is a measure of views on inflation based on bond prices, was at 0.48 percent Tuesday in Seoul, after hitting a record low of 0.33 percent in March.
Households expect prices to rise 2.5 percent over the next 12 months, the least since the central bank began compiling data from 2002, according to a March 26 statement from the BOK.
"By next year, CPI in South Korea should revert back to about 1.5 percent to 2 percent with an improving global economy and as oil prices recover," said Kang Hyun Gu, a Seoul-based economist at Taurus Investment Securities Co. Kang said that while domestic demand is weak now, the impact of lower oil prices is temporary.
Related News and Information: The Bond Market Is Defying Korea's Campaign to Raise Inflation
Before it's here, it's on the Bloomberg Terminal.
LEARN MORE