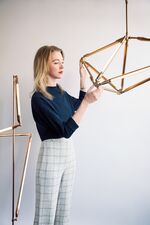 As a child, Bec Brittain liked to grow rock candy in jars, watching the crystals multiply into strange and appealing shapes. Now 34, the lighting design star uses that same principle in her work, connecting rods and tubes in graphic forms. "I'm drawn to the idea of basing man-made structures on natural ones," Brittain says.
After graduating from Parsons, she apprenticed under New York lighting designer Lindsey Adelman. Brittain opened her own shop in 2012, focusing on work based on the geometry of crystals, which has won her the adoration of high-end decorators around the country. "We're known for the statement piece, the focal piece," she says.
Her LED chandeliers can now be found in places such as Manhattan's Puck Building, and prices range from $4,000 for a wall sconce to as much as $42,000 for a customized chandelier.
Sampling Brittain's Best-Selling Work

The Vise ($13,700) is a blown-glass globe whose gradient hues mimic various sunsets.

The Seed Sconce ($4,000) includes crystalline bits that can be placed in patterns to create larger crystals.

The Helix Floor ($6,200) is made of brass hardware and LED tubes, which wrap around a central support.

For the Echo ($15,650), Brittain turned the tube bulbs inward, bouncing their light off mirrored fins.

Brittain designed the Maxhedron Pendant ($4,500) as a way to play with the optical properties of a two-way mirror; it glitters like a disco ball.
Bright Stars
Four more lighting designers whose work will elevate any room
Lindsey Adelman
Adelman, Brittain's mentor, makes fixtures that combine warm metals, blown-glass elements, and sleek machined shapes. They're equally at home uptown (New York's Park Hyatt hotel) and down (New York's James hotel).
David Weeks
In 2013, Weeks opened a sprawling showroom in New York's Tribeca full of high-end lights that channel French design icons and Calder mobiles. His work can be found in places like Barneys New York and W Hotels.
Gabriel Hendifar
Hendifar worked as a fashion designer before opening his studio in 2012. He pairs unusual materials such as leather and horsehair with metals and modern geometries for a moody yet luxurious look.
Jason Miller
With his famed antler-shaped chandelier, Miller ruled the Brooklyn design scene of the early 2000s. He now produces his work under the name Roll & Hill, and his showroom also sells pieces by New York talents such as Brittain and Fort Standard.
Before it's here, it's on the Bloomberg Terminal.
LEARN MORE