Russia Extends Ukrainian Gas Discount Amid Renewed Debt Demand
Elena Mazneva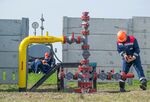 Russia agreed to prolong Ukraine's discount on natural-gas prices for the next three months amid a respite in its deadly separatist conflict.
The government approves the extension "on the understanding" that Ukraine will meet its contractual obligations and pay its debt for previous supplies, Prime Minister Dmitry Medvedev told President Vladimir Putin at a meeting shown on state television.
Ukraine has warned it may halt fuel purchases from April 1 unless a new agreement is signed, while awaiting an arbitration ruling on prices and Russia's gas-debt claims. The world's biggest energy exporter says its former Soviet ally owes almost $2.5 billion, including penalties, for past supplies. Ukraine plays a key role in the European Union's energy security, as Russia's OAO Gazprom uses its pipelines to supply more than 10 percent of the 28-member bloc's gas.
"All of Russia's moves are aimed at showing the West that the country is ready to compromise," said Maxim Moshkov, an oil and gas analyst at UBS AG in Moscow. "Using gas as an extra element of pressure on Ukraine is unprofitable and pointless for the Kremlin now, especially given the end of the heating season."
The former Soviet republics are planning to hold EU-brokered energy talks in mid-April. NAK Naftogaz Ukrainy said last week it backed an EU proposal to extend the current "winter package" deal with the Russian gas exporter through March 2016.
No Compromise
While the discount affects the Russian budget by lowering Gazprom's export duties, the government recognizes the neighboring country's economic woes, according to Medvedev. Ukraine's gross domestic product may contract 11.9 percent in 2015 following a yearling conflict with pro-Russian rebels.
The package is being prolonged without any changes, Kremlin spokesman Dmitry Peskov said on a conference call after Putin's meeting with the prime minister.
"Russia's decision doesn't look much like a compromise yet as the terms of the discount aren't clear," said Alexander Paraschiy, an analyst at Concorde Capital in Kiev. "It's an unattainable luxury for Ukraine to pay $2.5 billion for the possibility of importing gas at far lower or similar sum in the second quarter. Moreover, Ukraine disputes the debt."
In October, Russia agreed to decrease Ukraine's gas price by as much as $100 per 1,000 cubic meters, or about 30 percent of the cost, by lowering Gazprom duties in an EU-brokered interim deal to last through the heating season. Ukraine resumed imports in December after deliveries stopped in June.
Ukraine would pay less than $250 per 1,000 cubic meters in the second quarter with its discount, Interfax reported, citing the country's Energy Minister Volodymyr Demchyshyn.
Ukraine's latest prepayment for gas, received on March 25, runs out during the next 24 hours at current supply volumes, Gazprom spokesman Sergei Kupriyanov said by phone on Tuesday.
Gazprom asked the government for the three-month extension given the coming summer season and high volatility in global gas prices, according to the company's Chief Executive Officer Alexey Miller on Monday.
Before it's here, it's on the Bloomberg Terminal.
LEARN MORE