Passover for Foodies: Let My People Eat Matzo S'mores
by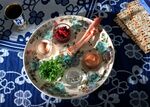 The Passover menu, known for unleavened bread and centuries-old recipes, is getting a foodie update.
Spurred on by cooking shows and blogs, kosher-food sellers are offering a wider range of flavors — as well as the organic and gluten-free options preferred by millennial shoppers. Matzo crackers now come in such varieties as "Mediterranean," with extra virgin olive oil, onion, garlic and herbs. In Israel, Ben & Jerry's has introduced an ice cream flavored like charoset, the apple-nut-wine mixture that's part of the seder plate. 
Even the humble macaroon — that shredded-coconut mainstay of the holiday — has been reimagined in flavors such as red velvet and carrot cake. Can Sriracha matzo be far behind?
"We have just completely become a foodie-obsessed society," said Jamie Geller, a chef and cookbook author known as the Queen of Kosher. Geller, whose website features such Passover dishes as smoked salmon crepes made with almond meal, is working with Manischewitz Co., the world's biggest kosher-food company and maker of the exotic macaroons.

The push is part of a broader effort to enliven Passover fare and boost sales of kosher cuisine, partly by getting more non-Jews to buy the food. The U.S. kosher market has been pegged at about $12.5 billion, according to Lubicom Marketing & Consulting, and the industry hopes there's room to grow.
Bain Capital
The holiday marks a year under new stewardship for Newark, New Jersey-based Manischewitz, which began as a Cincinnati matzo bakery in 1888. It was purchased last year by Sankaty Advisors, a unit of private-equity firm Bain Capital, which is looking to expand the company's customer base. That includes touting products with appeal beyond kosher diners, such as its broths and Tam Tam crackers.
"We're trying to seize on the trends that are important to the consumer, particularly for the millennials, who are becoming a more important component of our customer base," Chief Executive Officer Mark Weinsten said in an interview. "It is changing. People think of the traditional Manischewitz customer — it's an aging demographic."
As part of a push to entice millennials, Manischewitz is holding more food demonstrations and events, Weinsten said. The company also is considering advertising, something it hasn't done historically, and has plunged into social media.
Earlier this month, the company hosted its first-ever pop-up store — "the Manischewitz Experience" — at New York's Chelsea Market. The space was filled with millennials sampling items such as potato pancakes with wasabi horseradish aioli and s'mores made with chocolate-covered matzos.
Quinoa Flour
Devorah Backman, a kosher cook in Brooklyn, New York, is a fan of the expanding palate.
"That's something that people my age really go for," said Backman, a 25-year-old who does marketing and publicity for cookbooks.
She grew up in an Orthodox family eating the classic Passover foods such as gefilte fish but started experimenting with recipes in her teens. The availability of such ingredients as almond flour and quinoa flour "expands your opportunities so much," she said.
For her Passover menu this year, Backman is considering dishes such as chocolate mousse made with avocado, almond-butter-based chocolate chip cookies and fried gefilte — fish patties with horseradish mayo and pickled salmon. Her family also likes to barbecue, something not associated with kosher eating.
Chocolate Plagues
David Levine, who runs a kosher candy shop in Skokie, Illinois, had once shut down his store's kitchen every Passover. Then he decided to create sweets honoring the holiday. The 43-year-old made chocolate versions of all 10 plagues — starting with frogs — and they proved to be a hit. Passover sales at the shop, Illinois Nut & Candy, have grown to about 18 percent of its total and are increasing every year, he said. 
"When we were kids, the Passover candy wasn't that exciting," Levine said. "We've raised the bar."
For Manischewitz, expanding its kosher food empire means appealing to health and eco-conscious consumers. It's offering sustainably harvested sardines and a new line of products that are free of genetically modified organisms.
The company also is doubling its of production gluten-free matzo — a product that quickly sold out when it was introduced two years ago. While the Manischewitz name is also associated with kosher wine, that product is produced by Constellation Brands Inc. through a licensing deal.
"The goal is to broaden our constituency, not to abandon it," Weinsten said. 
Non-Kosher Shoppers
Of the 12.4 million people who buy kosher products in the U.S., only about a fifth are following Jewish dietary laws, Lubicom Marketing estimates. Many shoppers seek out the products for health and safety reasons or because of other dietary regimens, according to the firm.
Passover commemorates the exodus of the Jews from enslavement under the Egyptian pharaoh, a story that is recounted during the seder — the meal and service that forms the centerpiece of the holiday. Jews observing Passover refrain from eating leavened foods to mark the haste with which the Jews fled, leaving them no time to let their bread rise.
Passover accounts for about half of Manischewitz's sales, but Weinsten hopes the initiatives will reduce its dependence on the holiday. Broadening the company's image is key to that.
"Hey, we're more than gefilte fish and matzo," he said.
Before it's here, it's on the Bloomberg Terminal.
LEARN MORE