Merkel, Hollande Say Time Short for Greek Economic Plan
Patrick Donahue and Mark Deen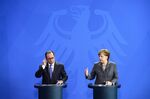 German Chancellor Angela Merkel and French President Francois Hollande pressed Greece's government to come up with an economic plan that its creditors can approve, saying time is short.
"There's no time to lose," Merkel said at a news conference with Hollande after they met in Berlin on Tuesday. While talks between Greek officials and the country's euro-area lenders in Brussels are "a start," they "aren't there yet," she said.
"As I already said several days ago, we've lost too much time," Hollande said. "The sooner, the better."
The leaders of the euro area's two biggest economies used the occasion of a joint Cabinet meeting in Berlin to signal unity on Greece, saying they want to keep the country in Europe and insisting that Greek Prime Minister Alexis Tsipras deliver on economic reform commitments.
While other euro-area governments gave Greece until the end of June to present a plan and "I'm not counting the days," Merkel said "the quicker Greece makes proposals, the quicker an agreement can be reached."
Asked about Tsipras's plan to visit Moscow for talks next week, she said she and Hollande "have also been to Moscow and we're still members of the European Union and stand united."
Before it's here, it's on the Bloomberg Terminal.
LEARN MORE