Japan Holds Out on Joining China-Led AIIB as Deadline Arrives
Masaaki Iwamoto and Maiko Takahashi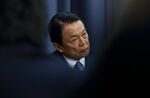 Japan held out on joining China's planned development bank as ministers in Tokyo cast skepticism over its governance on the final day for nations to sign up as founding members.
Japan remains cautious about the prospect of becoming part of the Asian Infrastructure Investment Bank and has yet to get answers from China on questions about the governance of the institution, Finance Minister Taro Aso told reporters in Tokyo on Tuesday. Foreign Minister Fumio Kishida rejected one report that cited Japan's ambassador in Beijing as saying the nation may join within a few months.
The AIIB has the potential to weaken the clout of the almost 50-year-old Asian Development Bank, dominated by Japan and the U.S. Strategic allies of the U.S. from Asia to Europe plan to join the new institution, underscoring the draw of closer commercial ties with China.
"Japan's stance is totally unchanged," said Aso. "There has to be totally fair governance. The governing council that represents the member countries needs to audit and approve each case."
He added that it was important to ensure all lending took into account debt sustainability, the environment and social impact.
The U.K.'s Chancellor of the Exchequer, George Osborne, announced earlier this month that Britain would be first "major western country" to apply for membership. France, Germany and Italy are following suit, as are Australia, South Korea and Russia.
The trend is a blow to Prime Minister Shinzo Abe, who is seeking to carve out a bigger role for Japan on the global stage and bolster security ties with the U.S. and other governments amid a territorial dispute with China.
Japan has held the presidency of the Manila-based ADB, which aims to reduce poverty, since it was founded in 1966 and shares roughly equal voting rights with the U.S. The current president, Takehiko Nakao, was nominated to the post by the Japanese government in 2013, while his predecessor, Haruhiko Kuroda, is now governor of the Bank of Japan.
The $50 billion AIIB, proposed by Chinese President Xi Jinping during a visit to Indonesia in 2013, will initially be less than a third the size of the ADB.
Before it's here, it's on the Bloomberg Terminal.
LEARN MORE