Israel Chemicals Harbors Tax Change Hopes With Politics Shake-Up
Jonathan Ferziger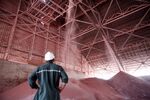 Israel Chemicals Ltd., which has shifted investments abroad in response to the threat of higher mining taxes, may find a more accommodating ear in Prime Minister Benjamin Netanyahu's new government, analysts say.
Yair Lapid, Netanyahu's last finance minister, pushed to raise levies on natural resources to as much as 42 percent. Now that he's out of office, the government may soften the proposal, said Gilad Alper, a senior analyst at Excellence Nessuah Brokerage in Petach Tikvah, Israel.
"They can say the guys before us went too far, they're causing harm to the economy and we're going to rectify it," Alper said in a telephone interview. Parliament ultimately would have to approve the new taxes.
ICL, Israel's second-largest publicly traded company, said it would freeze investments at home until conditions become more "internationally competitive," a threat especially potent for the economically depressed southern Negev region where it is the biggest employer. The company offered $109 million last week for Toronto-based Allana Potash Corp., which is developing a $642 million mine in Ethiopia.
Tel Aviv-based ICL is also considering whether to buy part or all of Soc. Quimica & Minera de Chile SA, Chile's largest fertilizer company, which has a market capitalization of $5.72 billion, Chief Executive Officer Stefan Borgas told Bloomberg in a March 20 interview.
Shares of ICL have risen 10 percent since the election was called in early December, tracking the benchmark TA-25 Index. They climbed 1.3 percent Wednesday to 28.67 shekels.
The shares have increased about 2 percent since the March 17 vote, while the gauge is up 4.3 percent. ICL was cut to "Equal-weight" from "Overweight" at Barclays on March 23.
Track Record
"It's no secret that the Israeli government under Lapid made life difficult for Israel Chemicals," said Roni Biron, an analyst for UBS AG in Herzliya, Israel. Once the tax recommendations by an official committee "are fine-tuned, there could be a little relief," he said.
The man Netanyahu has designated as his next finance minister, Moshe Kahlon of the Kulanu party, has put other matters at the top of his agenda, such as rising home prices and bank regulation. Still, he may put up resistance, having campaigned on his refusal to be cowed by corporate interests.
"ICL's been flexing its muscles because they really want to bring down the tax rate," said Ilanit Sherf, an analyst at Psagot Investment House Ltd. in Tel Aviv, adding that other countries where potash is mined have rates from 32 to 35 percent. "The question is how Kahlon is going to react and we won't find out until the government's in place."
Labor Unrest
Beyond the taxes, Israel Chemicals has other issues that will challenge the incoming government, from labor strife that has led to court intervention to the company's role in drying up the Dead Sea, a mecca for tourists to Israel and Jordan who seek the healing properties of the mineral-rich water at the lowest point on earth.
Lapid met Wednesday with striking workers from ICL's Dead Sea Works plant and told them, "We won't leave you until your struggle ends in victory," according to a statement from the employee's union.
Both the company, which is controlled by billionaire Idan Ofer, and Kahlon spokesman Nadav Shenberger declined to comment on what impact the new government may have. The revised levies would take effect on Jan. 1, 2017, and add about 400 million shekels ($100 million) annually to government coffers, according to the Finance Ministry.
If the proposals go through, "it's going to be very complicated for the new government to explain why the southern part of Israel is going to be hammered economically," Alper said. "If they don't do something that gets ICL to invest in the southern part of Israel, the economic implications are going to be dire."
Most Profitable
Lapid's opposition helped to kill the proposed acquisition of Israel Chemicals in 2013 by Potash Corp. of Saskatchewan Inc., the world's largest fertilizer producer by market value, which holds a 14 percent stake in the company.
Borgas said last year that the company would shift its focus overseas and reduce its workforce in Israel because of the tax proposals. "When you have limited capital available, you have to spend it where it's most profitable and Israel is no longer that place," he told Bloomberg in an Aug. 7 interview after canceling $750 million of Israeli investments and putting $1 billion more on hold.
Since then, ICL agreed in January to buy Austria's Prolactal, a maker of dairy protein food ingredients. The company sold its aluminum, paper chemicals and water treatment businesses in October to Japan's Kurita Water Industries Ltd. for approximately 250 million euros ($268 million).
Before it's here, it's on the Bloomberg Terminal.
LEARN MORE