Higher U.S. Rates Pose No Bar to Gold Rally for BofA, StanChart
Phoebe Sedgman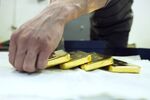 Gold will probably advance in 2015, snapping two straight years of declines, even as the Federal Reserve raises interest rates, according to Standard Chartered Plc and Bank of America Corp.
Bullion will trade at $1,320 an ounce in the final quarter as investors bet that, after an initial increase in borrowing costs, further rises will be gradual, Standard Chartered said in a report on Monday. The metal will average $1,300 in the final three months of the year as rate increases come through at a muted pace, Bank of America analyst Michael Widmer wrote in a separate note on the same day.
Gold is headed for a second monthly decline in March as investors cut holdings in exchange-traded products and the dollar rallied on prospects for tighter U.S. policy. The outlook from Standard Chartered and Bank of America contrasts with views from Goldman Sachs Group Inc., Deutsche Bank AG and UBS Group AG, all of which expect declines. Bullion typically trades counter to the U.S. currency, which has also been supported by easing from central banks outside the world's largest economy.
"The extent of quantitative easing outside the U.S., geopolitical developments, India's deregulation, consumer demand from China and problems within the euro area will all be supportive for gold," StanChart said. After the first U.S. rate increase, "when attention turns to the likely nature of the cycle -- i.e. very gradual indeed -- we believe that there will be a base for a more rapid rise in gold prices."
ETP Holdings
Gold for immediate delivery traded at $1,184.70 an ounce at 12:29 p.m. in London, 2.4 percent lower this month and little changed this year. Holdings in bullion-backed ETPs shrank 3.4 percent in March, the most since December 2013, according to data compiled by Bloomberg, and investors held the most short wagers in the week to March 24 since records begin in 2006.
"While the U.S. central bank remains intent to normalize policy rates, the last announcement highlighted concerns over a strong U.S. dollar, which is to some extent linked to the continued disinflation, weakness in exports and lack of upside to equities," Widmer said. "We see a risk that rate hikes will only come through at a muted pace, which in turn would help gold."
Fed Chair Janet Yellen said last week that she expects the bank to raise rates this year, and subsequent increases will be gradual without following a predictable path. Policy will evolve as economic conditions evolve, she added. Non-farm payrolls data for March are due for release on Friday.
"The dollar has strengthened quite a fair bit, and that has put downward pressure on the gold price," Dominic Schnider, head of commodities and Asia-Pacific foreign exchange at UBS's wealth-management unit in Hong Kong, said in an interview on Tuesday. Rates may be increased in September, according to Schnider, who reiterated a 12-month gold target of $1,050.
Before it's here, it's on the Bloomberg Terminal.
LEARN MORE