GoDaddy Seeking Investors as It Pursues Small Business Customers
Brian Womack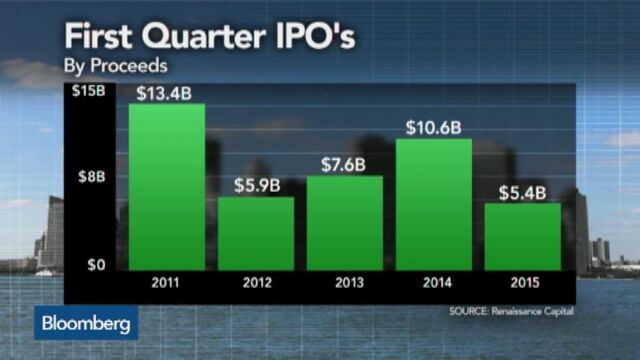 GoDaddy Inc. wants to persuade investors that those racy Super Bowl ads do more than stir controversy. They help it tap new customers for its Internet services business.
As it seeks to raise as much as $418 million from an initial public offering Tuesday, the company is touting the potential for small businesses to keep the market for domain name registration growing.
So far, it's shown that this is possible -- with revenue growth of 23 percent in 2014, which was faster than that at rivals like Endurance International Group Holdings Inc. and Germany's United Internet AG. Despite this faster growth, it's also offering the shares at a lower valuation, relative to sales, than both of those competitors currently fetch.
"Investors are looking at a leader in the domain business," said Kathleen Smith, a principal at Renaissance Capital LLC, which invests in newly public companies. "It's a mature technology company that's still growing."
The Scottsdale, Arizona-based company is seeking a valuation of as much as $2.87 billion from the IPO, which would be a multiple of 2.1 times last year's sales of $1.39 billion. Endurance trades at about 4 times sales, while United Internet is fetching closer to 3 times, data compiled by Bloomberg show.
"Even at the top end of the proposed share price range, GoDaddy is seeking a pretty reasonable valuation," said Brian Hamilton, chairman of Sageworks, a financial information company, in an e-mail. "This is very apparent when you compare GoDaddy to other recent, high profile tech IPOs, but you can also discern this by comparing them to the most recent domain registration IPO, Endurance."
Like Endurance, GoDaddy is unprofitable, though its net loss narrowed to $143.3 million last year from $199.9 million in 2013, a regulatory filing shows. Endurance has gained about 60 percent from its Oct. 2013 IPO price.
New Markets
GoDaddy which still primarily helps small companies get domain names, has been investing in other lines such as hosting customers' sites. The company had about 13 million customers at the end of last year, up from 8 million at the end of 2010, the filing said.
Opportunities continue to grow, GoDaddy said in the filing. More than 50 percent of small businesses in the U.S. didn't have websites as of early 2013, according to a study by Beall Research that was commissioned by GoDaddy.
"Most small businesses have fewer than five employees, and most small-business owners identify themselves as having little to no technology skills," the company said in the filing. "Our addressable market extends beyond small businesses and includes individuals and organizations, such as universities, charities and hobbyists."
A spokeswoman for GoDaddy declined to comment.
Brand Awareness
The company says it remains a product and technology company at its core, with almost 800 engineers and more than 100 patents. Still, GoDaddy says its marketing -- including Super Bowls ads that have been criticized by women's advocates as being tasteless -- have helped increase name recognition among consumers.
"We have invested, and expect to continue to invest, substantial resources to increase our brand awareness," the company said.
Larger competitors could pose challenges. Google Inc. said last year that it was testing a service that allows people to use the Internet to find and register domain names. The tool lets businesses easily buy and transfer domains and then send feedback on the experience.
"It's still kind of a bare-bones product," said Sameet Sinha, an analyst with B. Riley & Co. "It's still not good enough."
A Google spokesman declined to comment.
KKR Acquisition
KKR & Co., Silver Lake Management and Technology Crossover Ventures acquired GoDaddy for $2.25 billion in 2011. In early 2013 the company appointed Blake Irving, who had held senior management positions at Yahoo! Inc. and Microsoft Corp., as chief executive officer.
Under their watch, GoDaddy has been shifting emphasis from its traditional business as a source of revenue. Domains made up 55 percent of the company's sales last year, down from 65 percent in 2012. The hosting business, which provides the computing power to operate a website, accounted for 37 percent, up from 30 percent. Revenue from managing business applications, such as e-mail accounts and bookkeeping, rose to 8.4 percent from 5.6 percent.
The company also is expanding beyond its home market. Last year, 25 percent of its bookings came from outside the U.S., up from 22 percent in 2012. GoDaddy has products tailored for 37 countries and in 17 languages.