Rahm Emanuel Widens Lead Over Chuy Garcia in Chicago Mayoral Poll
Tim Jones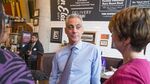 Chicago Mayor Rahm Emanuel has doubled his lead over challenger Jesus "Chuy" Garcia with one week before the April 7 runoff election, according to a poll released Tuesday.
The first-term mayor leads Garcia, a Cook County commissioner by a margin of 58 percent to 30 percent, according to the Chicago Tribune survey.
Emanuel, 55, a former chief of staff to President Barack Obama, was forced into a runoff Feb. 24 when he failed to win a majority against four opponents.
Chicago is burdened with $20 billion in unfunded pension liabilities and faces the prospect of insolvency. Garcia has called Emanuel the mayor for the rich and the corporate elite. Emanuel says Garcia has not shown how he'll right the city's finances.
The newspaper's poll of 724 registered voters was conducted between March 25 and March 29 and has a margin of error of 3.7 percentage points.
On March 13, the Tribune reported that Emanuel had a 14 percentage-point lead.