Improving Prospects for Jobs Propel Americans' Confidence
Victoria Stilwell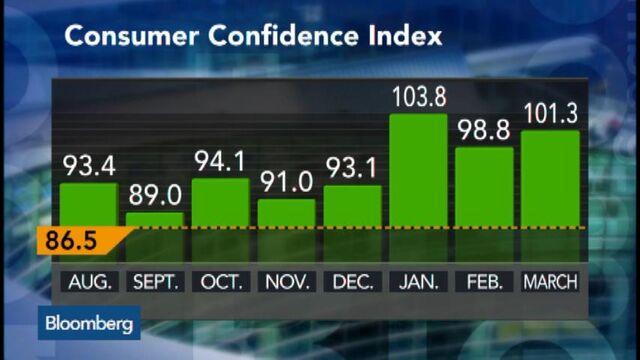 Americans in March believed more jobs will become available and incomes will rise, giving consumer confidence a bigger-than-projected boost as the first quarter draws to a close.
The Conference Board's sentiment index climbed to 101.3, the second-highest reading of the current economic expansion, from 98.8 in February, according to data from the New York-based private research group issued Tuesday. Other reports showed home prices are firming and factories are struggling.
The pickup in confidence bolsters forecasts that spending, which accounts for almost 70 percent of the economy, will strengthen after bad weather hurt retailers at the start of the year. A report later this week is projected to show payrolls kept expanding this month, indicating households will propel growth as a rising dollar hampers manufacturing.
"It's all about the labor market," said Aneta Markowska, chief U.S. economist at Societe Generale in New York, whose projection of 102 for the confidence index was the closest in the Bloomberg survey. "Clearly those prospects are very good. It seems like that weakness in spending is really temporary."
Purchases barely rose in February, a report from the Commerce Department showed Monday. The 0.1 percent gain followed a 0.2 percent drop in January. Adjusting for changes in prices, spending dropped for the first time in almost a year.
Stocks fell amid a retreat among health-care and industrial companies, trimming a ninth quarterly advance for the Standard & Poor's 500 Index. The S&P 500 dropped 0.9 percent to 2,067.89 at the close in New York.
Equities have swung between monthly gains and losses this year as economic data send conflicting signals on whether the economy is strong enough to justify higher interest rates from the Federal Reserve.
U.S. Factories
While the figures on confidence may signal a rebound in spending, factories are hampered by weaker overseas economies, slumping investment in the oil patch and a stronger dollar that makes U.S. exports more expensive.
Business activity in the Chicago area shrank in March for a second month as orders and production contracted. While the Institute for Supply Management-Chicago Inc. said Tuesday that its business barometer improved to 46.3 from 45.8 in February, readings lower than 50 signal pullbacks.
Another report showed home prices in 20 U.S. cities appreciated at a faster pace in the year ended in January, indicating residential real estate is strengthening.
Home Prices
The S&P/Case-Shiller index increased 4.6 percent after rising 4.4 percent in the year ended in December. Nationally, prices rose 4.5 percent in the 12 months through January.
A lean supply of available properties will continue to drive up home prices heading into the busy spring selling season as demand is spurred by rising rents. Builders like KB Home see better times ahead as temperatures rise, based on early signs of strength, particularly among first-time buyers.
"The housing market's in much better shape, getting better all the time," said Scott Brown, chief economist at Raymond James & Associates Inc. in St. Petersburg, Florida, who correctly forecast the gain in home prices. "It still has a long way to go to get back to what we would consider a steady state."
Estimates in the Bloomberg survey of 70 economists for the Conference Board's confidence index ranged from 93 to 102. It averaged 96.9 during the last expansion and 53.7 during the recession that ended June 2009. In January, the index rose to 103.8, the best reading since August 2007.
Consumer Expectations
The group's consumer expectations gauge for the next six months increased to the second-highest reading in four years, while the measure of present conditions dropped.
Americans' assessments of current and future labor-market conditions improved. The proportion of consumers expecting more jobs to become available in the next six months climbed to 15.5 percent from 13.8 percent in February.
Households are confident the recent gains in employment can be sustained. Just 13.5 percent of those surveyed said fewer jobs would be available over the next six months, the smallest share in almost 11 years.
A report Friday is projected to show employers added almost a quarter million jobs in March after an average 293,000 positions were added over the past six months, according to a Bloomberg survey. The unemployment rate is forecast to hold at 5.5 percent, an almost seven-year low.
The share of respondents that said they expected their incomes to grow in the next half year increased to 18.4 percent in March, the second-most since December 2007, from 16.4 percent last month, Tuesday's Conference Board report showed.
Grocery Sales
Companies including Fresh Market Inc., a natural and organic food retailer based in Greensboro, North Carolina, said low gas prices and an improving labor market are positive for sales.
While cheap fuel has bigger benefits for lower-income customers, versus the grocer's middle-class shopper, "we've seen great traffic growth throughout the year," Chief Financial Officer Jeffrey Ackerman said on March 25 at an industry conference. "We feel like the economy is better."
Other sentiment indexes have shown signs of turning up after falling earlier this year. The Bloomberg Consumer Comfort Index rose to 45.5 in the period ended March 22, matching the second-highest level since July 2007, from 44.2 the prior week. Measures of the economy, buying climate and households' financial well-being all improved.
The University of Michigan final gauge for March eased to 93 this month from 95.4 in February, capping the best quarter since 2004 as the labor market stayed strong and gasoline prices leveled off.
Before it's here, it's on the Bloomberg Terminal.
LEARN MORE