China's Yuan Posts Biggest Monthly Advance Since December 2011
Fion Li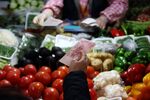 China's yuan posted its biggest monthly advance since December 2011 as policy makers stepped up efforts to make it a global reserve currency and took measures to boost the property market.
People's Bank of China Governor Zhou Xiaochuan this month called for the International Monetary Fund to add the yuan to its basket of four reserve currencies, just days after Deputy Governor Yi Gang confirmed the central bank is in talks with the IMF for such an inclusion. The PBOC on Monday cut the down-payment requirement for some second homes, while the Ministry of Finance on March 8 allowed a 1 trillion yuan ($161 billion) local-government debt swap plan to lower funding costs.
The yuan rose 0.13 percent to close at 6.1996 a dollar in Shanghai, extending its March rally to 1.13 percent, China Foreign Exchange Trade System prices show. That's the best performance in Asia this month and follows four straight months of losses for the currency.
"A stable exchange-rate, if not an appreciating one, is instrumental for bolstering yuan's case as a reserve currency," said Tommy Ong, managing director for treasury and markets at DBS Bank Hong Kong Ltd. China's latest measures "have also eased concerns over risks in the financial system," he said.
Stronger Fixing
China will keep the exchange rate at a reasonable, balanced level and expand the yuan's global use, Premier Li Keqiang said in a work report delivered to the annual meeting of the legislature on March 5.
The PBOC raised the yuan's reference rate 0.09 percent in March, halting a two-month decrease of 0.46 percent. That's against the backdrop of this month's 2.7 percent rally in the Bloomberg Dollar Spot Index, which tracks the greenback's performance against 10 major peers. The yuan's fixing was set at 6.1422 a dollar on Tuesday. The gap between the onshore spot rate and the fixing was 0.93 percent, within the central bank's 2 percent limit.
In Hong Kong's offshore market, the currency climbed 1.3 percent in March, the most since October 2011, data compiled by Bloomberg show. It rose 0.06 percent Tuesday to 6.2063 a dollar.
The Washington-based IMF's board will conduct the twice-a decade review of the Special Drawing Rights in October after an informal briefing in May, Managing Director Christine Lagarde said in a December report. Including the yuan in the SDR would allow the IMF to recognize the ascent of the world's second-largest economy, and aid China's attempts to reduce the dollar's dominance in global trade and finance.
Growth Outlook
There's no problem with the yuan eventually becoming a reserve currency, former Federal Reserve Chairman Ben S. Bernanke said at a conference in Washington on Monday, while adding that more work was needed before it could achieve that status. China will revamp its foreign-exchange regulations "relatively radically" this year, PBOC's Zhou said on Sunday.
The central bank cut the minimum down payment to 40 percent from 60 percent for some people buying a second home before paying off an existing mortgage. The move came after Zhou's comments Sunday that China's growth rate has tumbled "a bit" too much and policy makers have room to act with interest rates and "quantitative" measures.
Analysts surveyed by Bloomberg expect the central bank to lower both, benchmark lending rates and banks' required-reserve ratios, adding to cuts made in recent months. Asia's largest economy set an expansion target of 7 percent for 2015, the lowest goal in more than 15 years.
"If policy makers are willing to accommodate with monetary policy such as interest-rate cut and lowering of reserve-requirement ratio, we believe the target of about 7 percent growth should be attainable," Australia & New Zealand Banking Group Ltd. Hong Kong-based economists led by Liu Li-Gang wrote in a research note on Monday.
Before it's here, it's on the Bloomberg Terminal.
LEARN MORE