Calipari's $0 Bonus Shows Big Programs Assume Risk in Coach Pay
Eben Novy-Williams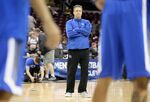 John Calipari's bonus for leading the University of Kentucky to the first undefeated men's college basketball season in 39 years would be the same as yours for reading this sentence -- $0.
It's a similar approach that Ohio State took with Urban Meyer, who collected no bonus money for winning this year's college football championship game. Contracts with little or no incentive pay reflect a college sports climate where richer athletic departments are assuming risk to reward coaches that can fulfill annual title aspirations.
"The expectation for us is to get to those moments -- he knows that, we know that, everyone knows that," Kentucky Athletic Director Mitch Barnhart said. "Then why not just say, ''Let's take that out of the conversation?'"
All the bonuses for on-court performance were removed from Calipari's contract in April when Kentucky made him the highest- paid coach in college basketball. Calipari, who won a title with Kentucky in 2012 and has been to the semifinals in four of the past five NCAA tournaments, was paid $6.5 million this season, the first in a seven-year deal worth $52.5 million. Bloomberg obtained the contract through public records requests.
While it's rare for college basketball coaches' contracts to lack on-court bonuses, Calipari isn't alone. Oklahoma State's Travis Ford, whose Cowboys lost their opening game of this year's National Collegiate Athletic Association tournament, has no incentives in the 10-year, $24.4 million deal he signed in 2009.
Contract Negotiations
Contract negotiations are a balance in risk-sharing, said Phil de Picciotto, founder and president of Octagon Worldwide, whose college clients include Stanford football coach David Shaw. Coaches that assume the risk themselves by accepting less up front may have more job security, while coaches like Calipari know that allowing schools to take more risk means that high expectations have an immediacy.
"It's a reflection of the leverage that the coach has by virtue of his record, persona and fit, such that a school wants that enough to essentially take all of the risk," de Picciotto said in a telephone interview.
Calipari's previous contract had six different on-court performance bonuses totaling $750,000. They included $150,000 for an NCAA semifinals berth and $350,000 for a title. The only bonus held over from his previous deal was $50,000 tied to his team's academic performance.
Barnhart said shifting money from bonuses to guaranteed compensation may be a more realistic option for richer programs with established coaches. Kentucky's $23.6 million in men's basketball revenue was fifth in the country last year, according to the U.S. Department of Education.
Different Rewards
"When you're younger in the growth of your program and you're trying to maintain coaches and keep stability, sometimes you reward people differently," Barnhart said.
Unlike Calipari, Ohio State's Meyer earned bonuses prior to the Buckeyes' berth in the college football championship game. The 50-year-old Meyer made $400,000 in incentive pay on top of a $4.1 million base. He was the only coach in the four-team playoff without a title bonus.
Wisconsin's Bo Ryan, who faces Kentucky in this weekend's second semifinal, will earn a $120,000 bonus if he wins the title. Michigan State's Tom Izzo would earn a $150,000 bonus, with another $50,000 coming from Nike Inc. Duke is a private institution, meaning Mike Krzyzewski's contract isn't public.
The antithesis to Calipari's contract is that of Purdue basketball coach Matt Painter, who collected $56,937 for finishing tied for third in the Big Ten regular-season standings and carries a maximum $355,861 bonus for NCAA tournament performance.
Ohio State
Barnhart said that both he and Calipari were frustrated that coaches' incentives were consistently the subject of discussion during times of celebration. Ohio State Athletic Director Gene Smith, for example, drew criticism for earning an $18,086 bonus when a Buckeyes wrestler won a 2014 NCAA championship.
The scrutiny for bonuses doesn't typically factor into negotiations, according to de Picciotto. He said the bigger threat for criticism is the total amount of the contract, like Calipari's $52.5 million.
"If you're going to pay all of that on a guaranteed basis there is nothing to incentivize," de Picciotto said. "They are expecting superb, top-of-the market performance year after year. That's what they're paying for."
Before it's here, it's on the Bloomberg Terminal.
LEARN MORE