Brazil Builder Collapse Jeopardizes World Cup Stadiums
Tariq Panja and Yasmine Batista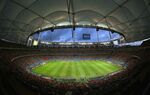 Brazilian construction company OAS's bankruptcy filing, amid allegations it bribed officials at state-owned oil company Petroleo Brasileiro SA, puts in doubt the future of two stadiums built for last year's World Cup.
OAS said in a statement Tuesday it is selling its 50 percent stake in the company that operates the Fonte Nova Arena in Salvador. Odebrecht SA owns the other half of the management company. OAS is also selling the operation it set up to run the Arena das Dunas in Natal, which it built.
"The company saw its credit lines offered in Brazil and abroad dry up for its operations," OAS said in the statement.
OAS and Odebrecht, Brazil's largest infrastructure company, are among 20 companies -- including 16 builders -- being investigated for participating in an alleged cartel to overcharge Petrobras for contracts.
The two new stadiums are among 12 that were built or remodeled for soccer's showpiece at a cost of 8 billion reais ($2.5 billion). Less than a year later, facilities including Rio de Janeiro's Maracana, which hosted the World Cup final, are reporting losses.
Tenants at the publicly owned stadiums in Salvador and Natal are walking away because of the expense of playing there.
Esporte Clube Bahia, the biggest team in a region of 15 million people, said it will move to a smaller facility after accusing the operator of the 320 million reais Fonte Nova Arena of not "treating our fans and members with respect."
Losing Money
The 400 million reais Arena das Dunas will no longer host games featuring Natal's highest-ranking team, ABC, which said it will move to another stadium in the coastal city. ABC's departure leaves third-tier America, with an average attendance of 4,000 spectators, as the only club to regularly play at the 31,375-seat stadium.
"Most of the games we don't make profits and costs are high," America spokesman Odeman Junior said by phone. "But we always knew the costs would be high. It's harmful for the team, but we signed the contract."
Playing at the Natal stadium, which staged four World Cup games, is too expensive, said ABC spokesman Stenio Dantas. "Having to pay to play is impossible," he said.
Several World Cup infrastructure projects weren't completed, even though Brazil spent about $20 billion preparing for the tournament.
A 22-kilometer (13.7-mile) scar disfigures the center of the western city of Cuiaba, where a promised rail project hasn't been built. Forty new wagons continue to gather dust near the city's airport, which also remains incomplete. The city's Arena Pantanal, which cost 570 million reais, has held 20 events since the World Cup and local teams rarely attract more than 1,000 spectators.
Before it's here, it's on the Bloomberg Terminal.
LEARN MORE