Bimbo Profit Cuts Undermine Rally as Top Breadmaker Nears Record
Adam Williams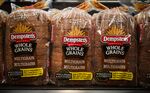 Grupo Bimbo SAB's profit outlook is dimming the most among global food-maker peers as competition grows in the U.S., signaling the end of its stock-market out-performance.
Analysts lowered their quarterly earnings estimates for Mexico City-based Bimbo by 23 percent, on average, in the past three months, the biggest decrease among 15 peers tracked by Bloomberg. Shares in the world's top bread maker reached a two-year high last week and are approaching record levels after acquisitions fueled a 22 percent rally in the past year.
As a result, Bimbo is now pricier than global competitors on an estimated earnings basis for the first time in at least 10 months. More competition from companies such as Hostess Brands LLC in the U.S. and Canada, the company's largest market, has damped optimism that the shares will continue to climb this year, Mauricio Martinez, an equity analyst at GBM Corporativa, said in a phone interview from Mexico City.
"The competitive landscape in the U.S. isn't allowing Bimbo to be able to improve their margins as hoped," Martinez said. "It continues to look more difficult that the company will be able to report important improvements in the U.S."
Bimbo didn't respond to phone calls or e-mailed messages seeking comment. The company "was not satisfied" with its U.S. results in 2014's fourth quarter, Chief Executive Officer Daniel Servitje said on a Feb. 27 earnings call. Bimbo rose 0.3 percent to 43.26 pesos at the close in Mexico City.
U.S. Restructuring
Bimbo reported a 231-million peso ($17 million) fourth-quarter loss on Feb. 26, which prompted GBM to lower its stock recommendation to the equivalent of sell from the equivalent of hold. The stock has climbed 6 percent this year and touched 44.49 pesos on March 24, approaching its record high of 47.50 pesos from August 2013.
Bimbo's quarterly loss stemmed partly from last year's restructuring of U.S. operations, Servitje said on the call. Bimbo has streamlined its two U.S. businesses into one, redesigned almost 1,500 delivery routes and closed 19 bakeries, he said.
"The focus for 2014 in the U.S. was to complete that process and then in 2015 begin to truly unlock the potential of the new entity," Servitje said. "There will be ongoing efforts and some investment to continue to improve our U.S. business."
Target Price
Bimbo's enterprise value is 11.2 times estimated Ebitda, compared with the Bloomberg World Food Index's ratio of 10.8, according to data compiled by Bloomberg. In June, Bimbo was trading at 8.8 with the index little changed.
Eleven of 13 analysts surveyed by Bloomberg have a target price for Bimbo of 44 pesos or lower. The stock rose 1.2 percent Monday to 43.13 pesos.
Bimbo is one of only eight Mexico companies on the 35-member benchmark IPC index with an average target price differential less than 4 pesos from the actual price, according to data compiled by Bloomberg. Thirty-one of the companies have prices lower than analyst target prices, which average 14 pesos above current prices.
Bimbo has "little space for attractive returns" after debt rose from last year's acquisitions of Maple Leaf Foods Inc.'s Canada Bread Co. and Saputo Inc.'s bakery line, Montserrat Anton, an analyst at Invex Casa de Bolsa, said in a phone interview from Mexico City.
Bimbo had a debt-to-Ebitda ratio of 3.2 at the end of the fourth quarter, up from 2.3 ratio a year ago, Chief Financial Officer Guillermo Quiroz said on the company's earnings call.
Growth Opportunities
"The level of debt is undoubtedly high," said Anton, who last week lowered her rating on Bimbo to sell from hold. "Though the company should be able to slowly lower its level of leverage due to the positive cash flows it generates."
Bimbo should see as much as a 10 percent increase in sales as the acquisitions of Canada Bread and Saputo take effect, according to Raul Ochoa, an analyst at Interacciones Casa de Bolsa SA, who has a buy rating on the stock. The company should benefit from improved operations in North America and Brazil, he said.
"The company is very healthy, both operationally and financially," Ochoa said in a phone interview from Mexico City. "The company continues to grow. It might be a bit slower, but growth opportunities remain."
Before it's here, it's on the Bloomberg Terminal.
LEARN MORE