Air-Rail Stock Ratio in U.S. Seen Lifting Off: Chart of the Day
David Wilson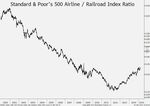 Airline stocks in the U.S. may have just started a liftoff relative to railroad shares that unfolded during the past three years, according to Jonathan Krinsky, chief market technician at MKM Partners LLC.
The CHART OF THE DAY displays a ratio of the Standard & Poor's 500 Airlines Index to the S&P 500 Railroad Index since 2000, when a bull market ended.
Losses and bankruptcies among U.S. carriers sent the ratio tumbling as much as 96 percent from December 2000 through April 2012, when an airline revival sparked a surge in the industry's shares. While the gauge more than doubled from its low through yesterday, it only recovered 6 percent of the earlier plunge.
Southwest Airlines Co. and American Airlines Group Inc. showed first-quarter gains as of yesterday, while the S&P 500 Transportation Index was the worst performer out of 24 industry groups in the S&P 500. Three of the four biggest declines in the 12-stock index belonged to railroads, which dropped as lower prices for oil and other commodities cut into shipments.
"If you are looking to sell the transports, you should start with the weakest links, in this case the rails," Krinsky wrote two days ago in a report. "Buy the airlines." Southwest was among the New York-based analyst's picks. He singled out Alaska Air Group Inc., JetBlue Airways Corp. and United Continental Holdings Inc. as well.
The transportation index's loss for this quarter amounted to 6.6 percent through yesterday and followed nine consecutive quarterly gains, the longest streak in its 25-year history. The group hasn't finished last in the January-March period since at least 1989, according to data compiled by Bloomberg.
Before it's here, it's on the Bloomberg Terminal.
LEARN MORE