Vote Chaos Confronts U.K. Bonds After Longest Gain Since 2003
Lucy Meakin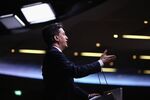 The most open U.K. election race in decades is dividing forecasters over whether gilts can extend their longest run of gains since 2003 with yields already close to record lows.
Britain's government bonds posted a fifth quarterly advance as stagnant consumer prices strengthened the case for the Bank of England to keep its benchmark rate at 0.5 percent. While European Central Bank bond purchases are driving investors to seek higher yields outside the euro area, gilts may struggle to benefit if Britain is plunged into an electoral crisis in May.
"The election is really the wild card in all of this," said Robin Marshall, director of fixed income at Smith & Williamson Investment Management in London. "We've been quite schizophrenic in the first quarter in the gilt market. A lot of this depends on that outcome."
Polls put the ruling Conservatives and the Labour opposition neck and neck, with neither on course to win enough votes for a parliamentary majority on May 7. In 2010, it took five days to form a coalition. It may take much longer this time. And Britain could even end up with its first minority government since the 1970s, dependent on smaller parties to pass legislation.
Political Wrangling
Even after any political deal is reached, uncertainty may persist. Prime Minister David Cameron has pledged a referendum on whether to leave the European Union if the Tories are re-elected. Labour leader Ed Miliband is promising less austerity, a commitment he may be forced to harden if Labour has to rely on the Scottish National Party for support.
Volatility in 10-year gilts has picked up, with the yield moving in a 52 basis-point range in February, the widest since 2013. The rate on the bond touched a record-low 1.325 percent in January and has since rebounded to 1.55 percent.
Forecasters are split on where that yield will end next quarter, with analyst estimates in a Bloomberg survey ranging from 1.2 percent to 2.35 percent. The weighted average forecast is for it to climb to 1.83 percent by the end of the second quarter.
Also muddying the outlook is the possibility that the Federal Reserve will raise interest rates as early as June. The U.S. central bank opened the door to the first increase in almost a decade when it dropped a pledge to be "patient" on March 18. By contrast, investors are all but ruling out a BOE rate increase before the middle of next year, Sonia forward contracts show.
'Potentially Negative'
U.K. bonds returned 2.4 percent in the first quarter through March 30, according to Bank of America Merrill Lynch indexes, beating Treasuries but underperforming euro-region securities.
It's "potentially negative for gilts if the Fed raises rates or if the election doesn't result in something that resembles a stable government," said Jason Simpson, a fixed-income strategist at Societe Generale SA in London. Yet "uncertainty generated by a government that looks unstable might give the Bank of England some reason to pause. It's a difficult call."
Gilts were underpinned this month as the ECB began its 1.1 trillion-euro ($1.2 trillion) bond-purchase program to revive inflation in the euro area. Italian and Spanish 30-year bond yields dipped below 2 percent for the first time on record in March, boosting the relative allure of the 2.3 percent yield on similar-maturity gilts. The rate on around one fourth of euro-area securities is below zero.
Locked Up
"People are still buying gilts," Bill Blain, a London-based strategist at Mint Partners Ltd., said in a March 24 interview on Bloomberg Television's "On The Move" with Jonathan Ferro. "There is tremendous illiquidity if you try to buy anything apart from gilts. I could tell you about the experience my salesmen and traders have had trying to find long-end bonds to sell to our clients, they just aren't there, because everyone has already locked the market up."
At HSBC Holdings Plc in London, Bert Lourenco, head of Europe, Middle East, and Africa rates research, sees the 10-year gilt yield dropping to a record low of 1.25 percent.
"If there were to be any selloff ahead of the elections we continue to think that's a buying opportunity," he said.
Before it's here, it's on the Bloomberg Terminal.
LEARN MORE