Dow Average Advances Most in Eight Weeks Amid Corporate Mergers
Oliver Renick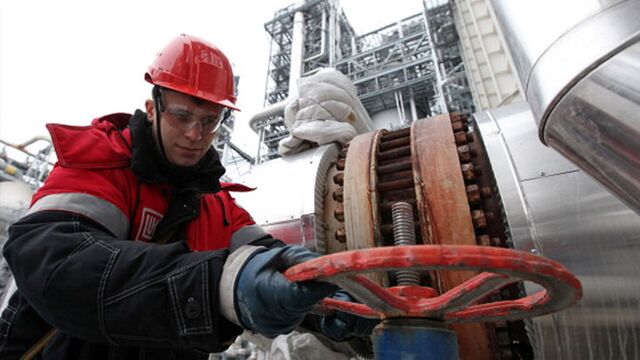 The Dow Jones Industrial Average posted its biggest advance in eight weeks as equities extended quarterly gains amid corporate mergers and optimism central banks will support global growth.
Chevron Corp., Exxon Mobil Corp. and JPMorgan Chase & Co. added more than 2.3 percent as oil companies and banks rallied. Catamaran Corp. jumped 24 percent after UnitedHealth Group Inc. agreed to buy it. Horizon Pharma Plc rose 18 percent after saying it will acquire Hyperion Therapeutics Inc. A Standard & Poor's index of homebuilders climbed after pending home sales in February rose more than forecast.
The Dow climbed 263.65 points, or 1.5 percent, to 17,976.31 at 4 p.m. in New York, its best gain since Feb. 3. The S&P 500 Index advanced 1.2 percent to 2,086.24, headed for its longest streak of quarterly increases since 1998. With a 0.2 percent increase on Friday, the index completed its first back-to-back gain after 28 days, the longest drought since 1994. The Nasdaq Composite Index rose 1.2 percent.
"There was the China central bank comment about stimulus overnight, the economic news this morning was a little bit mixed, and it seems people are putting cash to work thinking maybe earnings are going to come in better than expected," Larry Peruzzi, the Boston-based director of international trading at Cabrera Capital Markets LLC, said by phone. "The biggest thing in today's market is there's no huge negative."
Data Watch
Federal Reserve Chair Janet Yellen said Friday that the central bank will probably raise rates this year, with subsequent increases taking place gradually, without following a predictable path. China's central bank chief said the government can do more to support growth in the world's second-largest economy.
First-quarter profits for S&P 500 companies are forecast to decline for the first time since 2009. Companies will see a contraction of 5.8 percent for the three-month period, according to economist estimates compiled by Bloomberg. Earnings growth forecasts for the quarter were positive as recently as January, the data show.
Consumer purchases rose less than projected in February, indicating the biggest part of the U.S. economy will find it hard to sustain momentum after the best quarter since 2006. Adjusted for inflation, spending declined for the first time in almost a year. Incomes climbed 0.4 percent in February for a second month, propelled by a jump in dividends.
Broad Rally
A separate report showed more Americans than forecast signed contracts to purchase previously owned homes in February, indicating a pickup in the housing market ahead of the spring selling season. The index of pending sales increased to the highest since June 2013. An S&P gauge of homebuilder stocks added 1.5 percent to its highest since June 2007.
The U.S. economy grew at a slower pace in the fourth quarter than economists had estimated, a Commerce Department update showed on Friday.
Other reports this week may show the Institute for Supply Management's manufacturing gauge slipped in March, while payrolls rose at a slower pace.
All ten primary groups in the S&P 500 advanced Monday, after the benchmark last week fell the most since January, extending a monthly loss. About 5.8 billion shares traded hands on U.S. exchanges, about 14 percent below the three-month average.
Energy and financial companies paced today's rally, rising at least 1.4 percent. Newfield Exploration Co., Exxon Mobil and Phillips 66 gained at least 2.4 percent. JPMorgan Chase and Travelers Cos. climbed at least 2.3 percent to bolster the financial group.
Monday Mergers
The Chicago Board Options Exchange Volatility Index fell
3.7 percent to 14.51. The gauge, know as the VIX, jumped 16 percent last week, the most since January.
Catamaran jumped 24 percent after UnitedHealth's OptumRx agreed to buy the provider of pharmacy benefit management services for about $12.8 billion. PBM competitor Express Scripts Holding Co. added 3.7 percent, the most in more than three months. UnitedHealth advanced 2.5 percent to a record.
Horizon Pharma climbed 18 percent to an all-time high after agreeing to buy Hyperion Therapeutics for $1.1 billion to gain drugs to treat rare metabolic diseases. Hyperion added 7.6 percent.
Teva Pharmaceutical increased 0.9 percent after agreeing to buy Auspex Pharmaceuticals Inc. for about $3.5 billion in cash to gain drugs that curb tics and other movement disorders. Teva will begin a tender offer of $101 a share for Auspex, which rallied 42 percent.
Altera Retreats
DreamWorks Animation SKG Inc. rose 6.6 percent to its highest since November after its "Home" film delivered $54 million in opening-weekend ticket sales, beating projections.
Analog Devices Inc. jumped 10 percent, the most since May 2009, after analysts at Barclays Plc upgraded the stock to overweight from equalweight and set a target price of $70, 10 percent above where shares now trade.
Altera Corp. lost 3.5 percent after soaring 28 percent Friday following a report that Intel Corp. was in talks to buy the company. Morgan Stanley analyst Joseph Moore downgraded Altera to equalweight from overweight, while Macquarie Research analyst Deepon Nag cut shares to neutral from outperform. Intel slipped 1.7 percent, one of two Dow components that fell.
Before it's here, it's on the Bloomberg Terminal.
LEARN MORE