Telefonica's Latin American Bet Sours as Real Declines
Rodrigo Orihuela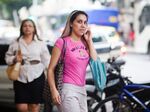 As European exporters benefit from a yearlong slide in the euro that's boosted revenue and profits, Spanish carrier Telefonica SA is among a group of companies that are grappling with a currency headache: the Brazilian real.
It's the only major currency to have weakened against the euro this year. After rallying in the first weeks of 2015, the Brazilian currency started sliding Jan. 23 and has dropped about 18 percent since.
Telefonica is one of only 10 major European companies that get 20 percent or more of total revenue from Brazil, according to data compiled by Bloomberg. Among the group, the Spanish carrier has the highest total revenue from the country. A large share of sales in Brazil may also also hamper insurer Mapfre SA and retailer Carrefour SA this year.
"A weaker real is a problem for Telefonica," Andres Bolumburu, an analyst at Banco Sabadell SA, said by phone. "Yes, debt goes down as well as income with the lower real, but in the end you have less money you take home."
Telefonica already generates 23 percent of revenue in South America's largest economy, a share that will increase as the Madrid-based operator spends 7.45 billion euros ($8.1 billion) to acquire broadband supplier GVT from Vivendi SA. While the purchase price is hedged, future profits aren't, meaning a weak real translates to less euros at home in Spain and less cash to pay dividends.
Shares of Telefonica lost 0.2 percent to 13.29 euros at 9:24 a.m. in Madrid. They have gained 13 percent this year.
Forward Market
The real is now trading at about 3.50 per euro and forward market traders expect a fall to 3.82 by the end of the year, according to data compiled by Bloomberg.
GVT and Telefonica Brasil generated a total of 40.5 billion reais ($12.5 billion) in revenue and 12.6 billion reais in earnings before interest, taxes, depreciation and amortization last year. Every 1 percent depreciation over the quarter in the real against the euro would result in about a 0.22 percent decline in Telefonica's total revenue, according to Erhan Gurses, an analyst at Bloomberg Intelligence.
A weaker real isn't Telefonica's only South American predicament. Last month, Europe's biggest carrier in the region announced a 2.8 billion-euro writedown in Venezuela linked to currency depreciation and last week it said a court decision related to taxes in Peru could crimp earnings by 437 million euros.
Corruption Probe
The real is slumping the most among major currencies against the dollar as President Dilma Rousseff struggles to turn around the economy and a widening corruption probe erodes investor confidence. The central bank said last week it will phase out a swaps program that had supported the real over the past two years.
The drop of the real is partly compensated by the rise against the euro of other Latin American currencies, including the Mexican, Chilean and Argentine pesos. Telefonica's debt may also decline as the value of its real-denominated loans shrink in euro-terms. The carrier can and does partially offset currency fluctuations by hedging dollar-denominated contracts with suppliers in Brazil.
A Telefonica press officer declined to comment on the company's dependence on the real. Chief Executive Officer Cesar Alierta said last month the company is very happy with Brazil and its macroeconomic outlook.
The Spanish carrier has been cutting back its presence in Europe as it increases bets on Latin America. It announced the sale of its Irish and Czech units in 2013, and on March 24, billionaire Li Ka-shing's Hutchison Whampoa Ltd. agreed to buy Telefonica's O2 wireless carrier in the U.K. for 10.25 billion pounds ($15.3 billion).
Before it's here, it's on the Bloomberg Terminal.
LEARN MORE