Republicans Get New Hearing in Virginia Voting Map Dispute
Greg Stohr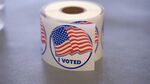 The U.S. Supreme Court told a lower court to reconsider a ruling that would force revisions to Virginia's Republican-drawn congressional district map.
The justices Monday ordered a new review in light of a ruling they issued last week reviving claims by Democrats and black lawmakers against Alabama's state legislative districts. The cases raised similar issues.
Democrats hold just three of Virginia's 11 U.S. congressional districts under the Republican-drawn lines. A revised map would give them a shot at more House seats in 2016, when the state is likely to be a battleground for the presidential election.
A lower court said race played too much of a role in drawing the boundaries for the 3rd congressional district, held by Democratic Representative Bobby Scott. Mapmakers packed black -- and disproportionately Democratic -- voters into the 3rd district so that it stretches from north of Richmond into Norfolk, 100 miles away.
The lines, drawn after the 2010 census, improved Republican odds of capturing the surrounding districts, including those now held by Representatives Scott Rigell and Randy Forbes.
The justices had been holding the appeal in the Virginia case, filed by the state's Republican delegation, until they resolved the Alabama case.
The Virginia case is Cantor v. Personhuballah, 15-518.