New York City Ban on Worship Services in Schools Left Intact by Supreme Court
Greg Stohr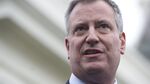 The U.S. Supreme Court turned away an appeal from a Bronx church that said it has a constitutional right to keep holding worship services in a New York City public school.
The justices, without comment, left intact a regulation put in place under former Mayor Michael Bloomberg that would ban religious services in public schools.
The Bronx Household of Faith is among dozens of religious groups that have used New York's schools to hold services. New York lets outside groups use school facilities during evenings and weekends at what the city says are subsidized rates.
The current mayor, Bill de Blasio, says he will allow religious services, even though his administration defended the no-worship rule in court. De Blasio said on Feb. 23 that he supports giving religious groups the same access to schools as other organizations, even for worship.
"This is something that, for years and years, went on in our schools without contradicting the separation between church and state, based on a group having to apply, having to wait its turn on line, having to pay rent," de Blasio told reporters.
A de Blasio spokesman, Wiley Norvell, said in a statement that the city defended the Bloomberg-era rule "to preserve its prerogative to issue rules governing the use of public school facilities after hours by various groups, including faith-based organizations."
Additional Litigation
Jordan Lorence, a lawyer with the Washington-based Alliance Defending Freedom who represented the church, said before the court acted that the group will consider additional litigation. One factor will be "whether Mayor de Blasio honors his repeated promises to change the policy and to allow religious groups to continue meeting in the schools for worship services."
In rejecting the appeal, the Supreme Court declined an opportunity to allow more intermingling of government and religion. Religious-rights groups backed the church's bid for review.
Bronx Household argued that its religious and speech rights were being violated. The church said New York City is alone among the country's major school districts in excluding worship services.
A federal trial judge backed the church, letting it hold regular services in Public School 15 from 2002 to 2014. A federal appeals court reversed that decision, upholding the policy. The appeals court put its decision on hold until the Supreme Court acted, so the policy hasn't taken effect.
Although it now has its own building and holds services there, Bronx Household is seeking to continue to use the school for occasional, larger events.
The city's current rules, put in place in 2010, prohibit partisan political events, private ceremonies and commercial uses, as well as worship services.
The former mayor is the founder and majority owner of Bloomberg LP, the parent of Bloomberg News.
Justice Sonia Sotomayor didn't participate in the court's action in the case.
The case is Bronx Household of Faith v. Board of Education, 14-354.