Merkel Signals She'll Resist German Public on Greek Exit
Patrick Donahue and Raine Tiessalo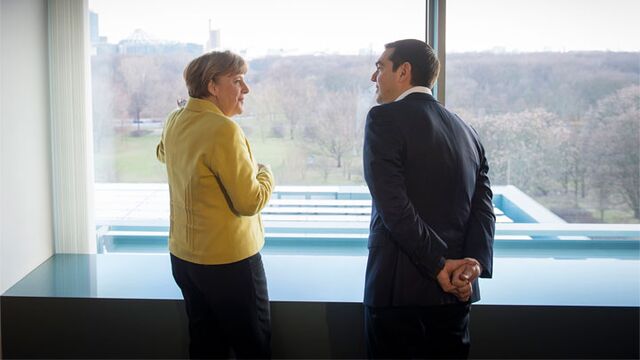 Chancellor Angela Merkel signaled she's prepared to ride out German voters' discontent to try to keep Greece in the euro, as long as Prime Minister Alexis Tsipras does his part and presents a viable economic plan.
As Greece's cash runs out and credit-default swaps signal investors see a growing risk that the country will renege on its debt, Merkel said she isn't guided by surveys on domestic opposition to keeping Greece in the euro.
"What I'm doing politically doesn't rely on the polls, which vary quite a bit, but rather will Greece be able to fulfill the expectations that we all have," Merkel said in Helsinki during a visit to Finland on Monday. "This will be an extended process of discussions. We are working for Greece to be able to remain a part of the euro area."
A list of proposed economic overhauls submitted to European negotiators says Tsipras is counting on taxing capital flight and fighting tax evasion to bolster Greece's finances. Merkel, who has fought to the keep the currency union intact since Europe's debt crisis peaked in 2011 and 2012, said "it's positive" that Greece is holding the talks with European authorities and the International Monetary Fund.
She declined to comment on the negotiations, saying "we will await the outcome of these discussions." Greece has flexibility in the measures it chooses, "but in the end the broad framework has to add up," she said.
Finnish Prime Minister Alexander Stubb, speaking alongside Merkel at a joint news conference, said Greece has to abide by the conditions for its aid program set out in a Feb. 20 agreement with other euro-area governments.
"One should be quite honest in saying that time is running out, but the conditions will not be changed," Stubb said.
A Greek exit from the euro area "would be a failure for all of us," Spanish Economy Minister Luis de Guindos said in Madrid on Monday. "It would be terrible for Greece and the monetary union."
"We're not trying to impose conditions on Greece for ideological reasons, that's absurd, it's totally absurd," he said. "We want Greece to return to growth and prosperity."
Before it's here, it's on the Bloomberg Terminal.
LEARN MORE