Marco Rubio Confirms that He'll Announce His 2016 Plans on April 13
Rubio will announce whether he's running for president or the Senate on April 13 in Miami.
By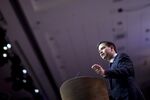 April 13 is officially a day to watch. Senator Marco Rubio confirmed Friday that he will make an announcement on that day regarding his political future, and whether he will run for president or the Senate.
During an interview on Fox News' The Five, Rubio was asked about reports that he plans to announce his presidential campaign that day at the Freedom Tower in Miami. "I will announce on April 13 what I'm going to do next in terms of running for president or the U.S. Senate. So we're going to formally announce that on the 13th," Rubio said.
Rubio also confirmed that he would make an announcement on his website.
He could become the third sitting senator to enter the presidential race. Ted Cruz of Texas became the first, earlier this month, and Rand Paul of Kentucky is scheduled to reveal his plans on April 7.
The interview also touched on the debate over Indiana's religious liberty law and Rubio's ability to fundraise against former Florida Governor and presidential hopeful Jeb Bush.
Rubio argued that Indiana's new law, which some argue can be used to discriminate against gay couples, is primarily about protesting religious liberty. "It's a difficult debate to have for a lot of people, but I think the flip side of this debate is what about the religious liberties of Americans who do not want to feel compelled by law to provide a catering service or photography service that their faith believes is wrong," Rubio said. 
When asked why someone should choose him over Bush, Rubio declined to answer, except to say that the next election will determine the future of the country. "I'm not a declared candidate for anything yet, but let me just say that the time will come for comparison shopping for voters and others," Rubio said. "I strongly believe that the future of this country will strongly depend on the next election."
He argued that the country needs a leader who understands the challenges facing America today, "and so, again, I'm looking forward to talking about that and many other things on April 13," he said.