Look Up in the Sky! Caped SEC Chief Urged to Curb Campaign Cash
Advertisements to be plastered all over a Washington subway station portray SEC Chair Mary Jo White as a superhero who should use her powers to rein in companies' campaign donations.
By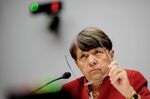 Holy campaign-finance reform, Batman.
Foes of money in politics say there's only one superhero with power to stop unlimited campaign donations by U.S. corporations, and she's missing in action. This is a job, they say, for Securities and Exchange Commission Chair Mary Jo White.
A series of advertisements to be plastered all over a Washington subway station portrays White in a cape and tights. Monsters representing big business are shown pummeling the Capitol and White House with money. The ads, which were paid for by groups including the non-profit Public Citizen, ask: "Have you seen Mary Jo White?"
The SEC can make companies disclose funds they spend on politics. But the issue has so far been kryptonite for White, who took it off the agency's agenda in 2013.

Starting today, Public Citizen said the ads will appear for a month in Union Station, where many congressional staff members and SEC employees arrive for work each morning. The busy railway and subway terminal is attached to the SEC's headquarters and just steps from the U.S. Capitol.
Citizens United
"It's their mandate to do this for investors," said Lisa Gilbert, director of Public Citizen's Congress Watch division. "It gets harder and harder to ignore when you have state treasurers weighing in, a collection of institutional investors, and a massive amount of retail investors supporting it."
Gina Talamona, an SEC spokeswoman, declined to comment. 
Debate over corporate political spending gained new prominence after the U.S. Supreme Court ruled in a 2010 case known as Citizens United that companies and unions could spend unlimited money on election ads. While companies are required to report donations made through political action committees, they don't have to report contributions to third parties, including industry groups such as the U.S. Chamber of Commerce, which fund ads for and against candidates.
Supporters of the SEC's involvement say shareholders deserve to know about political activity that could offend customers and, if controversial enough, impact a company's sales. Skeptics, including many business groups and securities lawyers, say political spending is an insignificant cost compared with other corporate expenses.
Divided SEC
Requiring more disclosure faces a partisan divide at the five-member SEC, where the two Republican members oppose it. Commissioner Luis Aguilar, a Democrat, has publicly advocated for a rule.
White appeared to pour cold water on the proposal in October 2013, saying disclosure rules foisted on the SEC by outside groups "seem more directed at exerting societal pressure on companies to change behavior, rather than to disclose financial information that primarily informs investment decisions."
The groups behind the new campaign want White to consider the proposal as part of a review of the SEC's corporate-disclosure rules that she initiated in 2013.  The other groups funding the ads include Avaaz, Common Cause, U.S. Public Interest Research Group, Greenpeace, the International Brotherhood of Teamsters, and Communications Workers of America.  They've set up a web page for the effort and want supporters to tweet about the ads using a hashtag, "#WhereIsMJW."