Ex-Deutsche Bank Traders Find New Credit Gigs as Rivals Hire
Alastair Marsh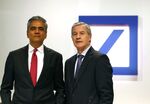 Credit traders let go by Deutsche Bank AG at the end of last year are finding demand for their skills at other investment banks and firms that are bolstering their fixed-income businesses.
Colin Webb and Dray Simpson started new roles in London this month at Commerzbank AG and Cantor Fitzgerald LP, respectively, while BlueCrest Capital Management hired Josh Farber in January, according to people familiar with the matter, who asked not to be identified because the information is private.
While the world's biggest lenders are being squeezed by new regulations that are eroding the rewards of fixed-income trading, the pinch is creating an opportunity for money managers that are outside the reach of banking rules and smaller rivals. Deutsche Bank is completing a months-long strategic review to determine where it needs to trim operations to boost returns.
"Some banks will maintain a presence in the credit market, and will seek the services of such traders, but revenues will not be what they used to be," said Alevizos Alevizakos, an analyst at Keefe, Bruyette & Woods Inc. in London. "With the spotlight on banks' leverage and capital, you will see traders moving to places that operate in the shadows, such as hedge funds and other less regulated entities that face less scrutiny."
Credit Pullback
Deutsche Bank said in November it would stop trading most credit-default swaps tied to individual credits because new regulations make it too costly. The German lender cut or moved as many as 10 traders of credit swaps in London and related indexes, including Webb, Simpson and Farber, people with knowledge of the matter said in December.
Charlie Olivier, a spokesman for Deutsche Bank in London, declined to comment on the departures or the bank's credit business. Colin Fan, co-head of Deutsche Bank's investment bank, said earlier this year that the company was "focusing on areas where we can put our balance sheet to the best possible use and where clients need us most."
Afif Beyhum, who was part of the team responsible for closing out the bank's credit-default swaps tied to individual companies, left the bank this month to join Barclays, according to a person familiar with the matter, who asked not to be identified because the information is private. Beyhum joined Deutsche Bank from Goldman Sachs Group Inc. in 2007, according to his registration with the U.K.'s Financial Conduct Authority.
Derivatives Trading
Credit swaps are used by hedge funds, banks and other institutional investors to protect against losses or to speculate on the ability of companies to repay their obligations.
Deutsche Bank's pullback from the derivatives is a significant move for a firm whose co-chief executive officer, Anshu Jain, ascended the ranks in part because of the success of the lender's credit-trading business. Jain and co-CEO Juergen Fitschen have sought to keep a fully fledged investment bank and consumer-lending unit since taking over in 2012, even as rising capital requirements hurt profitability.
Credit swaps, which have been blamed for exacerbating the 2008 financial crisis, were one of Wall Street's fastest-growing businesses before the collapse of the credit bubble, creating a profit center for firms such as JPMorgan Chase & Co. and Goldman Sachs Group Inc. Dealing in the credit swaps has since become more expensive for lenders like Deutsche Bank as regulators across the U.S. and Europe require banks to hold more capital to back trades, reducing the returns for shareholders.
Dealer Opportunity
"Dealers face constraints because of regulations, but as some pull out of the market that is an opportunity for others to step in," said Hussein Dbouk, global head of credit-default swap trading at HSBC Holdings Plc in London.
Simpson, who worked as an emerging-market credit swaps trader at Deutsche Bank before being let go in November, joined Cantor Fitzgerald, according to a person familiar with the matter. Simpson is based in London and focuses on emerging market sales, according to Cantor spokeswoman Sheryl Lee.
Webb traded traded investment-grade financial credit swaps at Deutsche Bank and joined Commerzbank to trade bonds, according to a person familiar with the matter. Commerzbank also added Donal Golden from Legal & General Investment Management in a similar role in March, another person said. Their registrations with the FCA show they both started this month at the Frankfurt-based bank. Claire Tappenden, a London-based spokeswoman for Commerzbank declined to comment on the hires.
BlueCrest, Henderson
Farber, who traded credit-derivatives indexes, joined BlueCrest this year. His registration with the FCA shows he started in January.
James Maxwell, head of European credit trading strategies at Deutsche Bank, will join Henderson Global Investors Ltd. as a credit analyst in April, said Fiona Kehily, a spokeswoman for the London-based investment firm. Global Capital reported the move earlier.
"Even though banks are under increasing balance sheet pressure, there will always be demand for quality, experienced traders, and institutions will try to make space for them especially if they come from tier-one banks like Deutsche," said Kumaran Surenthirathas, head of front office search at recruitment firm Eximius Group.
Before it's here, it's on the Bloomberg Terminal.
LEARN MORE