Labour Likely to Gain 6 Tory Seats in London on Poll Lead
Alex Morales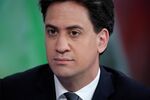 The U.K. Labour Party is likely to gain six seats from the ruling Conservatives in London if the opposition can retain its 14 percentage-point lead in the capital in the May 7 general election, polling company ComRes said.
With 38 days to go until the vote, Ed Miliband's Labour party has the support of 46 percent of probable voters in the capital, with Prime Minister David Cameron's Tories at 32 percent, according to a ComRes poll for ITV News London published Monday. That compares with 37 percent and 35 percent support for the two main parties respectively in the 2010 election.
"The polls suggest Labour will be winning about six seats off the Conservatives and leave a few on a knife-edge," Tom Mludzinski, head of political polling at ComRes, said in a phone interview. "Labour tend to better in urban areas rather than in more rural areas and do better among the younger voters."
The survey provides some respite to Labour, which other polls indicate may lose most of its lawmakers in Scotland to the Scottish National Party. Labour won 258 seats in the last election, 49 fewer than the Tories. In Scotland, it won 41 out of 59 seats, while in London, it took 38 of the 73 districts.
Probable gains for Labour from the Tories are Brentford & Isleworth, Ealing Central & Acton, Croydon Central, Harrow East, Hendon and Enfield North, Mludzinski said. The opposition may also take the Brent Central, Bermondsey & Old Southwark and Hornsey & Wood Green seats from Deputy Prime Minister Nick Clegg's Liberal Democrats, he said.
ComRes interviewed 1,004 London adults online March 20-24. It didn't specify a margin of error.
Before it's here, it's on the Bloomberg Terminal.
LEARN MORE