Labor Party Urges Norway Government to Be Active Amid Oil Slump
Saleha Mohsin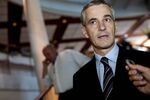 The government will need to more actively support the economy and jobs as plunging crude prices pressure Norway to faster wean itself off its reliance on offshore production, the leader of the opposition said.
While Prime Minister Erna Solberg has promised fiscal stimulus should the economy need help in the short-term, she has stuck with worn-out proposals to address the necessary long-term adjustments, Labor Party head Jonas Gahr Stoere said.
"The government is too passive as we face concrete challenges" in the economy, he said in a March 27 interview. "The government is clinging to its old toolbox too much by saying that reducing taxes is the best way to support transition."
A collapse in Brent crude prices is endangering an economy that relies on fossil fuels to generate more than one-fifth of its output. Surveyed unemployment rose to 3.9 percent in January, the highest since 2006, as the nation braces for as many as 40,000 jobs to disappear out of about 250,000 in the petroleum industry nationwide.
"I'm not challenging the prime minister's rhetoric for a need for adaptation, but I challenge her mood," said Gahr Stoere.
The 54-year-old took over as leader of Labor in June after former Prime Minister Jens Stoltenberg stepped aside to become secretary general of the North Atlantic Treaty Organization. Gahr Stoere served as both foreign and health minister when Labor was in power from 2005 to 2013.
A Conservative-led coalition ousted Labor with promises of tax cuts and loosening the state's hold on Scandinavia's richest economy.
Gahr Stoere said the government is being "too passive" in providing help to industries most exposed to oil prices.
The government last week proposed to loosen layoff rules by cutting the number of days paid by employers to 10 from 20. It also seeks to increase the maximum unemployment benefit period to 30 weeks from 26 weeks.
The move came after Norway's business industry group and two labor unions appealed to the prime minister in a joint letter. The government's proposal will be part of its revised budget scheduled to be released May 12.
A need for Norway to diversify its economy isn't new and the government needs to involve companies, business organizations and unions, Gahr Stoere said. Part of the onus also lies with state-owned oil producer Statoil ASA. The company has a duty that goes beyond simply seeking returns for shareholders, he said.
"Statoil is aware that it has a responsibility as a major industrial actor in Norway and has been entrusted with a role that includes technological innovations that also benefit a larger spectra of Norwegian industry," Gahr Stoere said.
Before it's here, it's on the Bloomberg Terminal.
LEARN MORE