Ferguson: The Interactive Stage Play, Brought to You by a Conservative Filmmaker
The unauthorized adaptation of the Mike Brown story.
By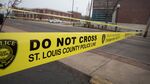 On August 9, 2014, the day that Ferguson, Mo. teenager Michael Brown was shot and killed by police officer Darren Wilson, Phelim McAleer was watching a play. The Irish journalist-turned-filmmaker was taking in "verbatim drama" at Edinburgh's annual Fringe Festival. He didn't really see coverage of the happenings in Ferguson until they had made it into the European media, as a straightforward tale of violence against an unarmed black man who'd had his hands up.
"When it's simplified like that you can see there's something wrong with the story," McAleer says. "If I'd been in the United States, I might have seen the details come out one by one. In the U.K. the story was presented in a storybook way. From the moment I saw it, I thought: That's a great, great story. Therefore, it's too good to be true."
McAleer is attempting to correct that by staging a play. Ferguson, which will play at Los Angeles's Odyssey Theater next month, adapts the grand jury materials from the case into an interactive drama. Other people can write columns about what the coverage of Ferguson got wrong, or that the rallying cry of "hands up, don't shoot" was contradicted by evidence. McAleer will put that on stage.
"It's going to be a dramatized stage reading," says McAleer. "Witnesses are going to describe what happened, just as they described it in the grand jury room. We're going to have cast at least 13 people, playing 20 different characters. Very interestingly, the one cast member who won't be there is Michael Brown, because he didn't give evidence before the grand jury. He couldn't. So he'll be a spectral, ghostlike presence. He won't be there, but his picture won't be there. The documents accompany the testimony will be on a large screen."
McAleer put the play together, quietly, while raising money for a film he's producing about abortionist and convicted murderer Kermit Gosnell–another project based on grand jury documents. Like Gosnell, Ferguson is being funded via a crowd-sourcing campaign. (A promotional video for the Gosnell campaign featured McAleer's partner, Ann McElhinney, reading gruesome excerpts from the grand jury report.) 
But while Gosnell will portray its title character fulsomely, Ferguson won't have any actor portraying Michael Brown. "There'll be a witness playing the part of Michael Brown, as happened in the grand jury testimony," says McAleer. "People will be inhabiting Michael Brown's persona, but there won't be an actual actor portraying him."
The dramatic goal: Getting the audience to live out the roles of jury members. Performances will end with the audience voting, through some electronic focus-group-style mechanism, on whether charges should be brought against Wilson.
A call to Benjamin Crump, the attorney representing Brown's family, was not immediately returned.
"When I started in journalism, the idea was that journalists were the most skeptical people in the room," says McAleer. "It's unfortunate that when some stories arise, journalists suspend their natural skepticism. Journalists need to realize they're not stenographers for a story–and they often do, but it depends on the story. If this was George W. Bush making claims about what he saw, they'd be a lot more skeptical. They'd be scoring brownie points against him. Instead they were allowing people to ramble on and say things that weren't checkable."
McAleer only sidesteps one question about the play. He refuses to say what the goal is. Is it to calm down the "militants" who've arrived in Ferguson? Is it to publicize this or that uncovered fact about the case?
"That's part of the problem, people who think journalists or journalism should have a legacy in mind," he says. "It should just tell you the truth. If you start out trying to change the world, you make mistakes. You should start off telling the truth. I want people to know the truth. If this is successful in Los Angeles I want to take it on the road, then to Ferguson, Mo."