EBay's StubHub Sues Ticketmaster Over Ticket Resales
Aoife White, Andrew Harris and Lucas Shaw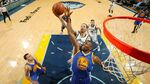 EBay Inc.'s StubHub escalated a long-running fight with Ticketmaster Entertainment Inc. by suing over the Golden State Warriors season ticket policy that it says seeks to sideline resellers.
The lawsuit is the latest battle between StubHub, the largest ticket reseller in the U.S., and Ticketmaster, the primary ticket seller for many professional sports teams and concerts. The companies have fought in court and statehouses for almost a decade, lobbying lawmakers over bills that could alter the price restrictions on ticket resales.
Purchased by EBay in February 2007 for $310 million, StubHub claims Ticketmaster and the Warriors violated U.S. antitrust and California law by canceling or threatening to cancel season tickets for the Oakland-based National Basketball Association team if they are resold anywhere other than Ticketmaster.
"If you are a Warriors fan and you want season tickets, you have one choice: buy them through Ticketmaster," StubHub said in its complaint, filed Sunday in San Francisco state court. The company said Ticketmaster may seek to replicate the policy "with other teams and entertainment venues throughout the U.S.," forcing StubHub and others out of business.
Ticketmaster said the complaint is without merit.
'Baseless Lawsuit'
"We are disappointed that StubHub has filed a baseless lawsuit that asks the courts to help prop up its business against true fan-friendly competition," Jared Smith, president of Ticketmaster North America, said in an e-mail. "NBA teams like the Golden State Warriors have implemented ticket exchanges powered by Ticketmaster because they want ticket resale to be a secure experience, not an opportunity for scalping and fraud."
Raymond Ridder, a spokesman for the Warriors, said third-party sites can't guarantee they are selling authentic tickets even though some offer a "money-back" guarantee.
"Currently, more than 10,500 fans are waiting for the opportunity to purchase Warriors season tickets," he said in an e-mail. "However, each year a significant number of those tickets are purchased by ticket brokers with the sole intent to resell them at a markup. The Warriors recently decided not to renew 2015-16 season tickets held by some ticket brokers, so that we can instead sell those tickets directly to fans on our wait list."
In 2007, Ticketmaster sued EBay claiming StubHub interfered with its exclusive rights to sell tickets for at least 18 concert venues. StubHub offered seats for sale on its website at venues that can only sell tickets through Ticketmaster, according to the complaint in Los Angeles Superior Court.
Bruce Springsteen
Ticketmaster struck a 2010 settlement with U.S. regulators over complaints that it steered customers to more expensive tickets for a Bruce Springsteen concert on its resale site. The company won Justice Department approval that year to merge with concert promoter Live Nation Entertainment Inc. after promising to license ticketing software to a rival.
StubHub's new lawsuit said Ticketmaster also delays delivery of tickets for weeks or even months until only a few days before a game to prevent resale on competing exchanges.
The number of listings for Warriors tickets on StubHub have fallen by about 80 percent in the last year as a result of efforts to limit resales, it said.
"We are concerned that this is going to be something that we'll be seeing more and more of," StubHub General Counsel Michelle Fang said Monday in a phone interview. Fang said the company's lawsuit was motivated by an outcry from Warriors fans and ticket holders, and was filed only after earlier attempts to persuade the team to change its policy failed.
"Given that they haven't been able to win when we've competed on a level playing field, they're trying to compete unfairly," Fang said.
The case is StubHub v. Ticketmaster, 3:15-cv-01436, U.S. District Court, Northern District of California (San Francisco).
Before it's here, it's on the Bloomberg Terminal.
LEARN MORE