Dufry's Duty Free Purchase Attracts Cash From Qatar, Singapore
Corinne Gretler and Mohammed Aly Sergie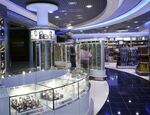 The planned acquisition by Switzerland's Dufry AG of Italian rival World Duty Free SpA marks the latest push by Qatar and Singapore into Europe as funds based in the countries target the region's growth areas.
The Singaporean sovereign-wealth fund GIC Pte, the Asian country's state investment firm Temasek Holdings Pte and the Qatar Investment Authority are each committing as much as 450 million Swiss francs ($467 million) to Dufry. The investments will help fund the Swiss company's purchase of WDF, a deal that will form the world's leading airport-retail operator.
"Europe is up for sale, and Qataris love a good sale," said Manish Singh, head of investments at Crossbridge Capital in London. "Qatar has been buying a huge quantity of European assets in recent years as a hedge against its economy's over-reliance on oil. This latest move with Dufry is a step further in that direction. For Singapore, it's just a good business deal, as it's a growth sector. There will be more deals."
Qatar has spent at least $16.3 billion acquiring European assets in the past three years, while Singapore has disbursed $12.2 billion, according to data compiled by Bloomberg. More than a third of the deals by Singapore were announced in the last three quarters, indicating a quickening pace of activity. Qatar is diversifying outside of real estate and finance.
A weakening euro is making investment in the region more attractive. The European currency has slid 21 percent against the dollar in the past year.
Recent investments have included a Qatari-led group buying London's Canary Wharf in a deal valued at about 2.67 billion pounds ($3.95 billion), last year's purchase by Qatar Holding LLC of a minority stake in French online fasion retailer Vente-Privee.com, and GIC's acquisition of a 50 percent stake in Italy's RomaEst shopping center.
London Properties
Temasek's investment in Dufry came the same day as the Singaporean firm and four partners announced the purchase of two prime central London properties for 308 million pounds.
Qatar, the richest country in the world on a per-capita basis, has deployed surplus income from liquefied natural gas exports into real estate, banks, and automakers. Its sovereign wealth fund has invested in luxury hotels in Europe and financial-services firms such as Barclays Plc and Credit Suisse Group AG. It's also the largest shareholder in commodities producer Glencore Plc.
Qatar Investment Authority has signaled interest in other continents over the past six months, pledging to invest $20 billion in Asia and $35 billion in the U.S. by 2020. Still, deals in Europe continue.
"It's pure diversification for the Qataris and Singaporeans," said Benno Galliker, a trader at Luzerner Kantonalbank AG in Lucerne, Switzerland. "First of all, the euro is relatively cheap, and second, airport retail is quite stable and there's a lot of growth still expected. And now, Dufry is market leader in that area."
Before it's here, it's on the Bloomberg Terminal.
LEARN MORE