Doctor Tied to Menendez Said to Face Federal Charges Soon
Del Quentin Wilber and David Voreacos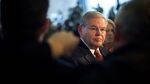 A Florida eye doctor is expected to soon face federal criminal charges as part of a corruption inquiry into U.S. Senator Robert Menendez, according to two people familiar with the case.
U.S. prosecutors are investigating whether the doctor, Salomon Melgen, provided the New Jersey Democrat with gifts and campaign donations in exchange for help with federal agencies. Menendez may face his own set of charges as soon as this week, according to another person familiar with the investigation.
Melgen and Menendez are long-time friends, and Melgen hasn't cooperated with federal investigators, according to one of the people familiar with the probe. The senator has denied any wrongdoing and vowed not to leave office amid the Justice Department inquiry.
Anne Lyons, a lawyer for Melgen, declined to comment. Both people who discussed the matter with Bloomberg did so on condition of anonymity as the case remains under investigation. The Associated Press reported earlier that U.S. prosecutors were moving closer to seeking charges against the doctor.
Peter Carr, a Justice Department spokesman, declined to comment.
Menendez, 61, is the top Democrat on the Senate Foreign Relations Committee. He was its chairman until January when Republicans took control of the Senate. A former U.S. representative, he was appointed to the Senate in 2006 and has twice won re-election. He served as chairman of the Democratic Senatorial Campaign Committee during the 2010 campaign cycle.
Billing Dispute
As part of the probe, investigators are examining actions by Menendez for the doctor in a billing dispute with the Centers for Medicare and Medicaid Services and for Melgen's effort to offer port security services to the Dominican Republic.
The Justice Department's Public Integrity Section and the Federal Bureau of Investigation began the probe two years ago in Florida. A grand jury in New Jersey has focused for months on the relationship between the doctor and the senator, according to one of the people familiar with the matter. Grand jurors have requested documentation on that relationship and heard from witnesses with knowledge of the two men.
Menendez previously said he wrote a $58,500 check in 2013 to reimburse Melgen for two 2010 trips the lawmaker took to the Dominican Republic on Melgen's private jet.
In 2012, Melgen's business gave more than $700,000 to Majority PAC, a super-political action committee that supports Democratic Senate candidates. The committee spent $582,500 to help Menendez win re-election.
Raided Twice
In a 2013 interview with Bloomberg News, Melgen said, "The senator and I have become like brothers, like friends."
"I talk to him weekly. I see him once a month," he said. "Not right now, since this whole thing has started. But we enjoy each other's company."
Menendez has visited Melgen's Dominican house "many times" as well as his home in North Palm Beach, Florida, the doctor said.
U.S. agents have twice raided Melgen's offices as part of its Medicare billing probe.
The Medicare agency ruled in 2009 that Melgen overbilled by $8.9 million in 2007 and 2008 for an eye medicine he uses on patients in his four South Florida clinics. Melgen also owns a company that sought to provide X-ray inspection services of shipping containers at Dominican ports. That company has been unable to get the Dominican government to honor the contract, he has said.