pursuits
Frigid February Saps Spending as U.S. Consumers Stay Home
Shobhana Chandra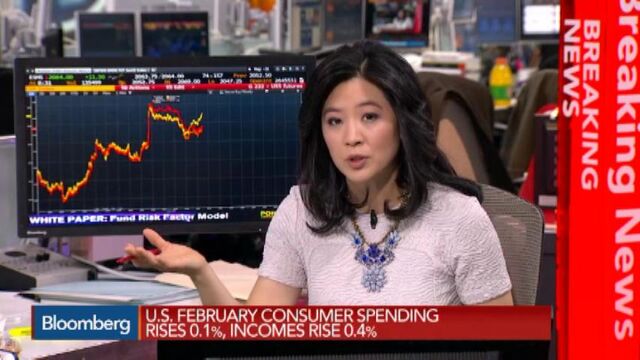 Consumer spending barely rose in February as frigid temperatures kept households away from malls and automobile dealerships, adding to signs the U.S. economy slowed at the start of 2015.
The 0.1 percent gain in purchases followed a 0.2 percent drop in January, according to Commerce Department data issued Monday in Washington. Adjusted for inflation, spending declined for the first time in almost a year. Another report showed pending home sales climbed.
Car showrooms, restaurants and clothing stores were among places wanting for customers as Americans fought the chill by huddling at home. While warmer weather may soon bring out more shoppers, steady gains in payrolls have yet to push up wages, which would help bolster bigger gains in outlays.
"Consumer spending is looking soft here, some of it was the weather effect," said Tom Porcelli, chief U.S. economist at RBC Capital Markets LLC in New York, the top spending forecaster over the past two years, according to data compiled by Bloomberg. Consumption "will come back in the second quarter."
Stocks rose, extending a quarterly advance, amid investor optimism that central banks will boost stimulus to support growth. The Standard & Poor's 500 Index rose 1.2 percent to 2,086.24 at the close in New York.
Survey Results
The median forecast of 74 economists in a Bloomberg survey projected spending would rise 0.2 percent. Estimates ranged from little changed to a 0.5 percent gain.
Incomes climbed 0.4 percent in February for a second month, propelled by a jump in dividends, the report also showed. The Bloomberg survey median called for incomes to rise 0.3 percent. Wages and salaries increased 0.3 percent after a 0.6 percent gain in January.
Economists at Barclays reduced their tracking estimate for first-quarter gross domestic product after the report to a 1 percent annualized rate from 1.2 percent, with consumer spending growing at about a 2 percent pace. Those at Morgan Stanley cut the growth projection to 0.8 percent from 0.9 percent.
That's less than half the 2.2 percent rate of expansion in the fourth quarter that was led by the biggest gain in consumer spending in eight years, revised Commerce Department data showed Friday. The 4.4 percent jump in household purchases was the biggest since the first three months of 2006.
Inflation-Adjusted
Monday's report also showed that adjusting consumer spending for inflation, which generates the figures used to calculate GDP, purchases declined 0.1 percent, the first drop since April, after a 0.2 percent increase in the previous month.
Sales of new automobiles fell 3.1 percent, spending at restaurants declined 0.7 percent and purchases of men's clothing also decreased.
The biggest surprise may have been outlays on services, which rose 0.1 percent after adjusting for inflation, the smallest gain since July. The category includes utilities, so economists were projecting a jump to help offset the weaker readings elsewhere.
Americans, especially those living in the eastern U.S., felt the pinch from higher heating bills that came due this month. Some 23 states had a top-10 coldest February and nine had their second-coldest, according to the National Oceanic and Atmospheric Administration. Residents in Chicago and Cleveland observed record-low February temperatures.
The cold weather also slowed showroom traffic, hurting car purchases. Ford Motor Co.'s light-vehicle sales slipped last month, while results at General Motors Co., Fiat Chrysler Automobiles NV, Honda Motor Co. and Nissan Motor Co. rose less than analysts estimated.
Payroll Gains
An improving job market continues to work in favor of consumers. February marked the 12th straight month that payrolls climbed by at least 200,000, and the jobless rate was the lowest in almost seven years, Labor Department data showed.
"The consumer is in decent shape," Karen Hoguet, chief financial officer at department store chain Macy's Inc., said during a March 24 conference presentation. At the same time, where customers are choosing to spend their money is "still going to be a challenge for retailers like us," she said, citing electronics and cable services as alternate purchases.
Monday's report also showed prices were stabilizing. The Federal Reserve's preferred measure of inflation, the price gauge based on the personal consumption expenditures, increased 0.2 percent from the prior month, the first advance since September, and was up 0.3 percent from a year earlier.
Prices Rising
The core price measure, which excludes food and fuel, rose 0.1 percent from the prior month and increased 1.4 percent from February 2014. The 1.3 percent year-to-year readings in January and December were the lowest since March 2014.
Inflation hasn't been above the Fed's 2 percent goal since March 2012. Officials have said they would need to be reasonably sure that prices would approach their target in the medium term before they raised their benchmark interest rate for the first time since 2006.
Expectations that the first rate increase will occur later this year may be giving residential real estate a boost as prospective homebuyers try to lock in still-cheap mortgage borrowing costs.
The index of pending sales increased 3.1 percent to 106.9, the highest since June 2013, figures from the National Association of Realtors showed Monday. The median forecast of 35 economists surveyed by Bloomberg called for a 0.3 percent rise.
The gain was "driven by a steadily improving labor market, mortgage rates hovering around 4 percent and the likelihood of more renters looking to hedge against increasing rents," Lawrence Yun, the NAR's chief economist, said in a statement. "These factors bode well for the prospect of an uptick in sales in coming months."
(Updates with closing stocks in fifth paragraph. To receive this column daily: SALT ECOCOL.)
Before it's here, it's on the Bloomberg Terminal.
LEARN MORE